Other Helpful Information
Birth and Death Records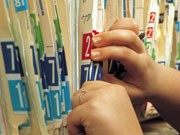 Neither birth nor death records are recorded in the Monroe County Clerk's Office.
Both birth and death records may be obtained from the Monroe County Health Department's Office of Vital Records. Visit the Health Department or call 585 753-5141 during normal business hours.
As a part of a collaboration between the Monroe County Clerk and the Monroe County Bureau of Vital Records, residents will be able to obtain certified copies of Birth Certificates at the Greece DMV on the last Saturday of each month between 8:30 a.m. and 12:30 p.m.
---
Marriage Licenses
The Monroe County Clerk's Office does not issue marriage licenses and does not keep copies of marriage licenses.
Marriage licenses are issued by city and town clerks. Copies of marriage licenses may be obtained from the office of the clerk who originally issued the marriage license.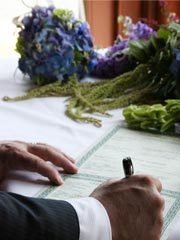 City of Rochester: 585-428-5990
Brighton: 585-784-5250
Chili: 585-889-3550
Clarkson: 585-637-1130
East Rochester: 585-586-3553
Gates: 585-247-6100
Greece: 585-225-2000
Hamlin: 585-964-2421
Henrietta: 585-334-7700
Irondequoit: 585-467-8840
Mendon: 585-624-6060
Ogden: 585-617-6100
Parma: 585-392-9461
Penfield: 585-340-8600
Perinton: 585-223-0770
Pittsford: 585-248-6200
Riga: 585-293-3880
Rush: 585-533-1312
Sweden: 585-637-2144
Webster: 585-872-1000
Wheatland: 585-889-1553
---
Homeowner Alert!  Have you received a solicitation to purchase a copy of your deed?
Several new homeowners have recently reported receiving letters from a company offering to provide copies of the deed to their home for fees exceeding $80.  These documents are on file with the County Clerk's Office and can be provided for reproduction fees of merely a few dollars!  Click here to view a letter from the County Clerk with more information.

print this page   

email this page   

back to top
Accessibility and Standards · Disclaimer and Privacy Policy · Non-Discrimination Policy
Official Site of Monroe County, New York. Copyright © 2019 Monroe County. All Rights Reserved.
Comments or suggestions? Please e-mail the MonroeCounty.gov webmaster.