Early Intervention
Contact Information
Roxana Inscho
Special Children's Services Administrator
---
Monroe County Department of Public Health
111 Westfall Road
Room 928
Rochester, NY 14620
Phone: 585 753-5437
Fax: 585 753-5272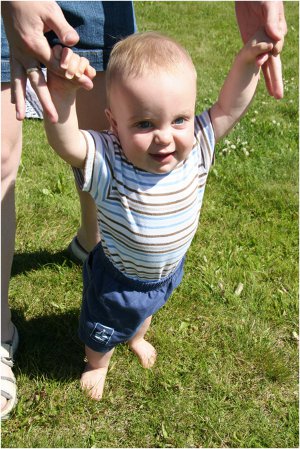 ATTENTION:  Face to face Early Intervention services have been suspended until further notice.  During the declared state of emergency, individual telehealth (virtual) early intervention services provided in accordance with the child's Individualized Family Service Plan (IFSP) will be allowable for families for whom this is appropriate.  The County and Early Intervention providers did begin the provision of teletherapy services this week.  Service  Coordinators and providers continue to communicate  with families to determine if telehealth is a viable option for the child and family and will be providing resources and activities for families that cannot accommodate tele therapy.  In addition teletherapy evaluations started this week. 
Update 4/3/20: If a family is unable to obtain an evaluation and Part B eligibility determination is not feasible prior to the child's third birthday due to the COVID-19 emergency, such child may remain in the EIP until a Part B eligibility determination can be made or June 30, 2020, whichever comes first.
Early Intervention (EI) is a voluntary developmental evaluation and services program offered by New York State and administered locally by the Monroe County Department of Public Health. The County EIP is subject to NYS regulations (see State for more information). EI serves children from birth through 2 years of age and their families where there is a high risk of delay, a suspected delay in development, or a confirmed diagnosis of developmental disability.  Evaluations are conducted to determine eligibility.  A variety of therapeutic and support services are offered to eligible infants and toddlers with disabilities and their families.  If a child is found not eligible, parents can request developmental monitoring. 
For more information call 585 753-KIDS.
 
Major provisions of the program include:
Identification and referral of children at risk or suspected of disability by primary referral sources
Periodic developmental screening and tracking of at risk children
Service coordination for eligible children and families
A multidisciplinary evaluation provided at no cost to parents to determine eligibility
Individualized Family Service Plans (IFSPs) for eligible children and families
Provision of early intervention services in the IFSP at no cost to parents
Delivery of services in natural settings in the community where children of the same age are typically found, to the maximum extent appropriate
The steps in the Early Intervention Process are: (see chart below)
Referral
Visit by the Initial Service Coordinator
A multidisciplinary evaluation to look at the child's functioning in five areas of development, including the area(s) of concern to determine eligibility
The IFSP (Individualized Family Service Plan) meeting to develop a service plan
Early Intervention services if the child is eligible
Review after six months/evaluate annually
Transition to Preschool Special Education (3–5) or to other early childhood services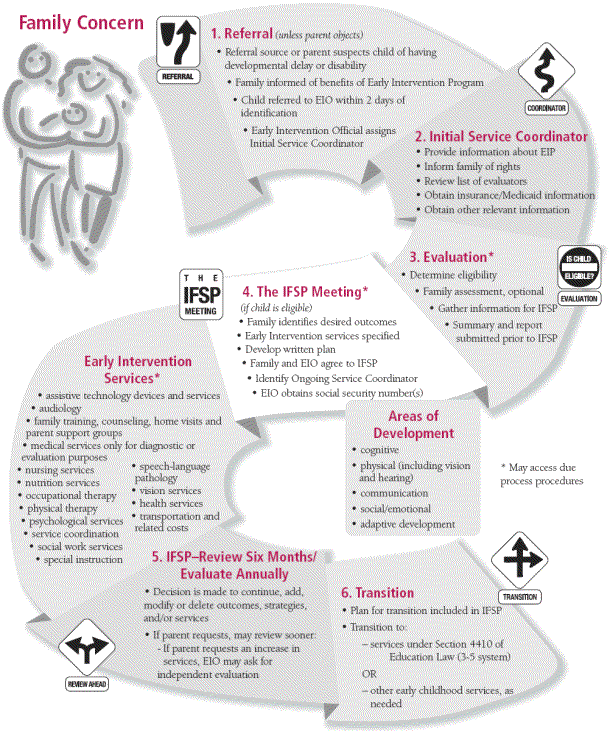 Early Intervention is administered locally by the Monroe County Department of Public Health.
Resources:
Early Intervention Fact Sheet
What Is Early Intervention?
What is Developmental Monitoring?

print this page   

email this page   

back to top
Accessibility and Standards · Disclaimer and Privacy Policy · Non-Discrimination Policy
Official Site of Monroe County, New York. Copyright © 2019 Monroe County. All Rights Reserved.
Comments or suggestions? Please e-mail the MonroeCounty.gov webmaster.