COVID-19 Testing Information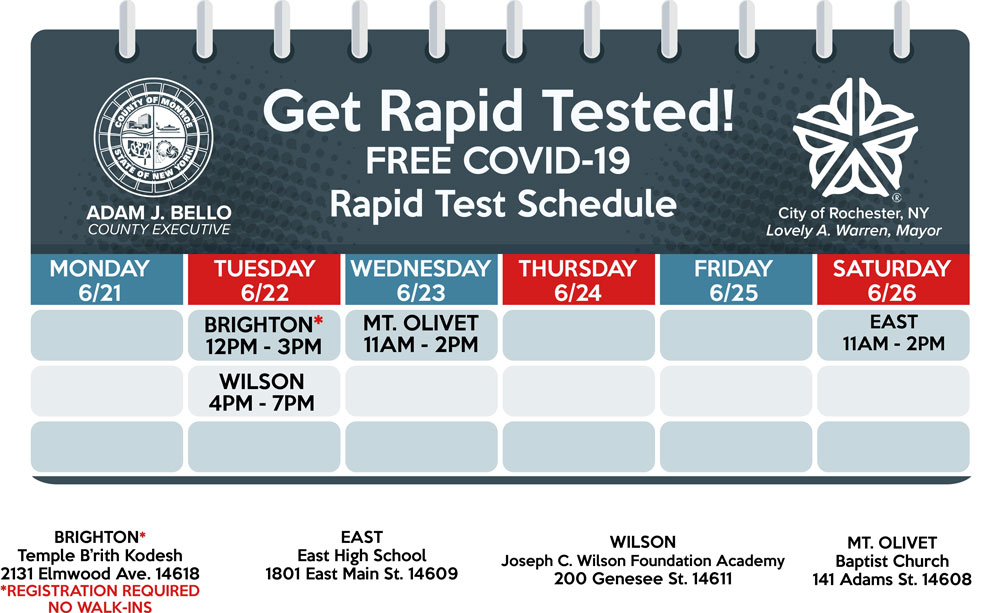 PRE-REGISTRATION ENCOURAGED
WALK-INS WELCOME
Monroe County is providing free, rapid COVID tests for anyone who is asymptomatic. Anyone experiencing symptoms should contact their healthcare provider or call the Monroe County COVID Hotline at 753-5555. Click the link below to find a location and register.
Register For Free Rapid Testing
You do not need to be symptomatic or an essential worker to get a test.
Test sites run by New York State are free. The state runs a test site at Monroe Community College. Test sites operated by private companies (pharmacies, medical practices, not-for-profits) may charge fees. you are advised to check with the testing site and your insurer in advance of being tested.

print this page   

email this page   

back to top
Accessibility and Standards · Disclaimer and Privacy Policy · Non-Discrimination Policy
Official Site of Monroe County, New York. Copyright © 2019 Monroe County. All Rights Reserved.
Comments or suggestions? Please Contact Us