Mission Statement
The Court Security Bureau, a division of the Monroe County Sheriff's Office, consists of approximately 110 Deputy Sheriffs whose responsibilities range from weapons screening and maintaining courtroom decorum to providing essential public safety and law enforcement services. The deputies ensure that court environments are safe and secure for the judiciary, court support staff, and the public.
Vision Statement
The Court Security Bureau strives to set the standard for all law enforcement agencies serving the judicial system by leading the way in professional development through accreditation, enhanced training, and state-of-the-art equipment. All of our energy will be devoted to providing the safest and most secure court environments possible.
Duties and Responsibilities
The Court Security Bureau consists of one Bureau Chief, two Lieutenants, six Sergeants, and 103 Deputies. Court Security Deputies are responsible for the physical protection of judges, court personnel, attorneys, witnesses, juries and citizens who have business within the Monroe County Civic Center Complex and the Appellate Court building.
Specific duties include:
Weapons screening at all entrances.
Maintaining order and decorum in courtrooms, waiting areas and court premises.
Patrolling buildings.
Guarding, transporting, and isolating sequestered juries.
Effecting arrests, remands, and confiscating contraband when necessary.
Assuming responsibility for all emergency response, including medical, fire, bomb threat, etc.
Weapons Screening in the Courts
Visitors to the courts may experience a slight delay upon entering the building because they must pass through a scanning device called a magnetometer and also have their packages, purses and clothing passed through an x-ray machine. In some cases a personal body scan may be required.
These procedures are necessary to ensure the health and safety of all who have business in the court building. Based upon the weapons screening statistics and the numbers of arrests and incidents, these are prudent measures.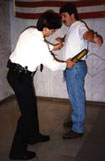 A Deputy Performs a
personal body scan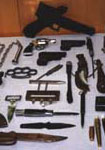 Samples of illegal
weapons