On This Page
Overview
Monroe County Sheriff's Office has partnered with Monroe County, the Monroe County District Attorney's Office, the Monroe County Public Safety Office, Rochester Police Department, Ogden Police Department and Gates Police Department in establishing an Incident Command Post that is staffed with members of several law enforcement agencies capable of bringing resources to bear within the critical first 24 – 36 hours of an opioid related incident. The Incident Commander reports directly to the Chief Deputy, Michael Fowler, on all Command Post matters and receives guidance from a Steering Committee comprised of Sheriff Todd Baxter, District Attorney Sandra Doorley, Rochester Police Department Chief David Smith, and Monroe County Public Safety Director Richard Tantalo. MCAC Field Intelligence Officers, as well as several non-governmental organizations, are also committed to providing support and resources to this effort.
"There is no greater drug epidemic than the one our community is facing right now," said Sheriff Todd K. Baxter. "Opioid overdose affects all of us; our families, our neighborhoods, our church communities, our children. We are attacking this crisis head-on with an aggressive approach, including a multi-jurisdictional partnership involving increased manpower, resources, and outreach. The Monroe County Heroin Task Force and Opioid Command Post are committed to responding from every angle within the critical first 24-36 hours of an opioid incident. We can't afford not to. Lives depend on it."
The Command Post became operational February 1, 2018. The success of this effort rests with the timely distribution of real-time, actionable data that allows police agencies to search for patterns and trends that will lead to long-term investigations and the successful prosecution of heroin dealers and suppliers. The daily reports are turned into tangible assignments that are distributed at the Command Post briefing each morning based upon what occurred the previous evening. A law enforcement officer or service provider response is assigned and tracked.
This operation would not be successful if it weren't for the resources committed to prevention, including the tireless work being done at numerous valuable non-profit agencies in our community. These agencies provide outreach, counseling, and other resources committed to reducing the impact of addiction. We are fortunate to have these non-profit organizations who accomplish our mission through education, consultation, advocacy, intervention, assessment and recovery support.
Maps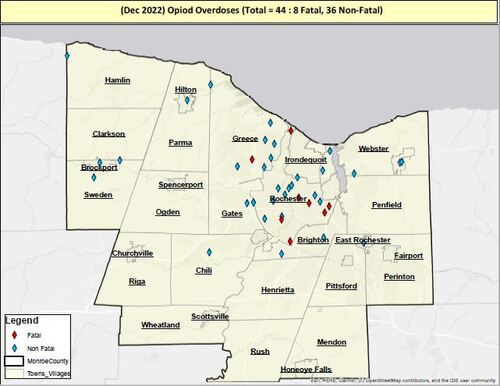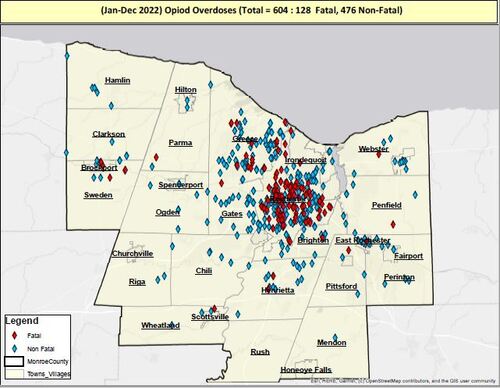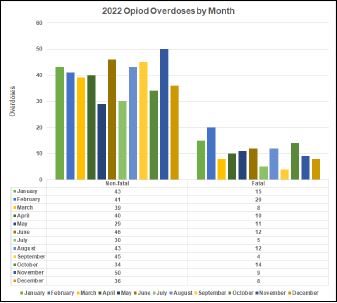 Heroin Overdoses and Fatalities
| 2022 | # Overdoses | # Fatal |
| --- | --- | --- |
| Year To Date | 604 | 128 |
| January | 58 | 15 |
| February | 61 | 20 |
| March | 47 | 8 |
| April | 50 | 10 |
| May | 40 | 11 |
| June | 58 | 12 |
| July | 35 | 5 |
| August | 56 | 12 |
| September | 48 | 4 |
| October | 48 | 14 |
| November | 50 | 9 |
| December | 44 | 8 |
| 2021 | # Overdoses | # Fatal |
| --- | --- | --- |
| Year To Date | 649 | 130 |
| January | 58 | 12 |
| February | 36 | 10 |
| March | 57 | 12 |
| April | 62 | 12 |
| May | 48 | 11 |
| June | 69 | 15 |
| July | 70 | 10 |
| August | 68 | 9 |
| September | 57 | 14 |
| October | 48 | 12 |
| November | 36 | 6 |
| December | 40 | 7 |
| 2020 | # Overdoses | # Fatal |
| --- | --- | --- |
| Year To Date | 726 | 137 |
| January | 69 | 8 |
| February | 69 | 16 |
| March | 80 | 17 |
| April | 62 | 13 |
| May | 74 | 13 |
| June | 67 | 13 |
| July | 49 | 9 |
| August | 49 | 8 |
| September | 56 | 12 |
| October | 39 | 5 |
| November | 55 | 7 |
| December | 57 | 16 |
| 2019 | # Overdoses | # Fatal |
| Year To Date | 839 | 127 |
| January | 71 | 10 |
| February | 47 | 10 |
| March | 62 | 7 |
| April | 37 | 5 |
| May | 64 | 14 |
| June | 93 | 13 |
| July | 110 | 17 |
| August | 77 | 9 |
| September | 82 | 13 |
| October | 78 | 10 |
| November | 48 | 8 |
| December | 70 | 11 |
| 2018 | # Overdoses | # Fatal |
| Year To Date | 1133 | 166 |
| January | 96 | 14 |
| February | 85 | 16 |
| March | 85 | 12 |
| April | 94 | 12 |
| May | 104 | 17 |
| June | 104 | 14 |
| July | 110 | 18 |
| August | 94 | 7 |
| September | 101 | 12 |
| October | 115 | 17 |
| November | 74 | 14 |
| December | 70 | 13 |
| 2017 | # Overdoses | # Fatal |
| Year Total | 766 | 220 |
| 2016 | # Overdoses | # Fatal |
| Year Total | 329 | 169 |
Partners in Outreach
ROCovery Fitness
(585) 484-0234
Rochester Regional Health: Open Access
Brighton: 2000 S. Winton Rd., Bldg. #2, Rochester, NY 14618
EBHC: 81 Lake Ave., Rochester, NY 14608
Greece: 1565 Long Pond Rd., Rochester, NY 14626
RMHC: 490 E. Ridge Rd., Rochester, NY 14621
S.O.A.R.S., Inc.
(585) 771-0896
Find us on Facebook
More Information
Monroe County Sheriff's Deputy Mike Favata: [email protected]