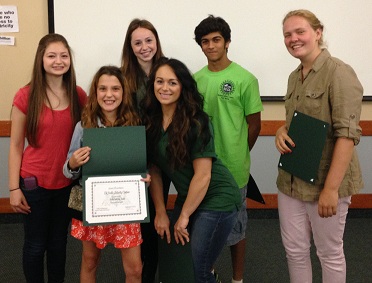 Youth as Resources (YAR) is a community-based youth philanthropy and youth voice program, funded by the Rochester-Monroe County Youth Bureau and the Rochester Area Community Foundation. The YAR Board provides grants of up to $1000 to young people to design and implement civic engagement activities and service / service learning projects which target social concerns, resolve community issues, and contribute to significant community improvement. YAR is governed by local youth and adults responsible for all of the decisions that accompany the grant making process. YAR is looking for new youth and adults to be part of the board. As a youth involved in YAR you will feel a sense of connection, civic responsibility, and self-worth as your own actions create positive change.
YAR youth make important decisions that address community issues that impact the lives of people throughout Monroe County. In YAR, we believe that youth are not only the leaders of tomorrow, they are the leaders of today. As an adult involved in YAR you will build relationships with youth that will make a lasting and positive impact on your life. Become a partner with youth to motivate and encourage the community to be champions for service. Join YAR and be a part of the positive youth development movement in Monroe County.
Who Can Apply For A YAR Grant?
All applying groups must have 501 (c) 3 Non-Profit status OR must be sponsored by a Non-Profit organization. If you need help connecting with a non-profit to act as your sponsor please contact YAR and we will gladly assist you. Groups that have applied and received funding in the past:
Community Youth Groups

Organizations

Churches

Schools
2019 Summer Grant Application
The deadline for the 2019 Summer Grant Application is May 2019. Apply to get up to $1,000 for youth-led service or service-learning projects!
Contact Us
Please feel free to call the YAR office if you have any questions @ 585-753-6953 or email YAR Coordinator, Hali Radecker at [email protected].