Monroe County Public Health Department Releases Halloween Health and Safety Guidelines for County Residents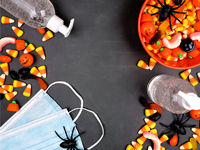 The Monroe County Public Health Department today released a Halloween "dos and don'ts" flyer to help local residents celebrate the holiday safely during the COVID-19 pandemic.
Public Health Commissioner Dr. Michael Mendoza says the County's low COVID-19 infection rate means it is possible to stay safe while trick or treating this year. However, he stresses the importance of following simple health and safety precautions while doing so. The flyer is being distributed to schools and other interested organizations.

print this page   

email this page   

back to top
Accessibility and Standards · Disclaimer and Privacy Policy · Non-Discrimination Policy
Official Site of Monroe County, New York. Copyright © 2019 Monroe County. All Rights Reserved.
Comments or suggestions? Please Contact Us