Data Layer Downloads
Use the links below to download a zip file of map layer data in ESRI shapefile format for use in mapping applications. Each zip contains files with the following file extensions: cpg, dbf, prj, sbn, sbx, shp, shp.xml, & shx.
Street Centerlines and Address Points are maintained by the New York State GIS Program Office. Click on the links below to download street centerlines or address points directly from New York State.
Parcel Boundaries are maintained by the Monroe County Office of Real Property. If you wish to acquire parcel boundaries, please visit the Monroe County Office of Real Property website.
2017 Monroe County LiDAR Data
** To download LiDAR data, click the button below**
In April 2017, the Monroe County Department of Environmental Services-Geographic Information System (GIS) Services Division contracted XEOS Imaging to acquire LiDAR data over the entire county. A total of 9 missions were flown with a Cessna 206 Turbo aircraft (C-GPXA) equipped with a LiteMapper 6800 system including a Riegl LMS-Q680i 400 KHz laser scanner. The final absolute accuracy of LiDAR points is estimated to be 11.7 centimeters with a 95% confidence level. Each point was post-processed in NAD83 (2011) State Plane New York West Zone, US Survey Feet. The vertical datum is NAVD88.
Flight Configuration Data:
Pulse density per flight line (pls/m2): 5.4
Nominal laser pulse rate (kHz): 300
Effective laser pulse rate (kHz): 200
Scanning angle (deg): 60
Flying speed (knots): 100
Flying height above the ground level, AGL (m): 625
Swath overlap: 30%
Scan frequency (lignes/second): 120
Vert/Horiz Accuracy: 11.7 cm with 95% confidence
Point spacing: 0.43 meters
Total area captured: 705.48 square miles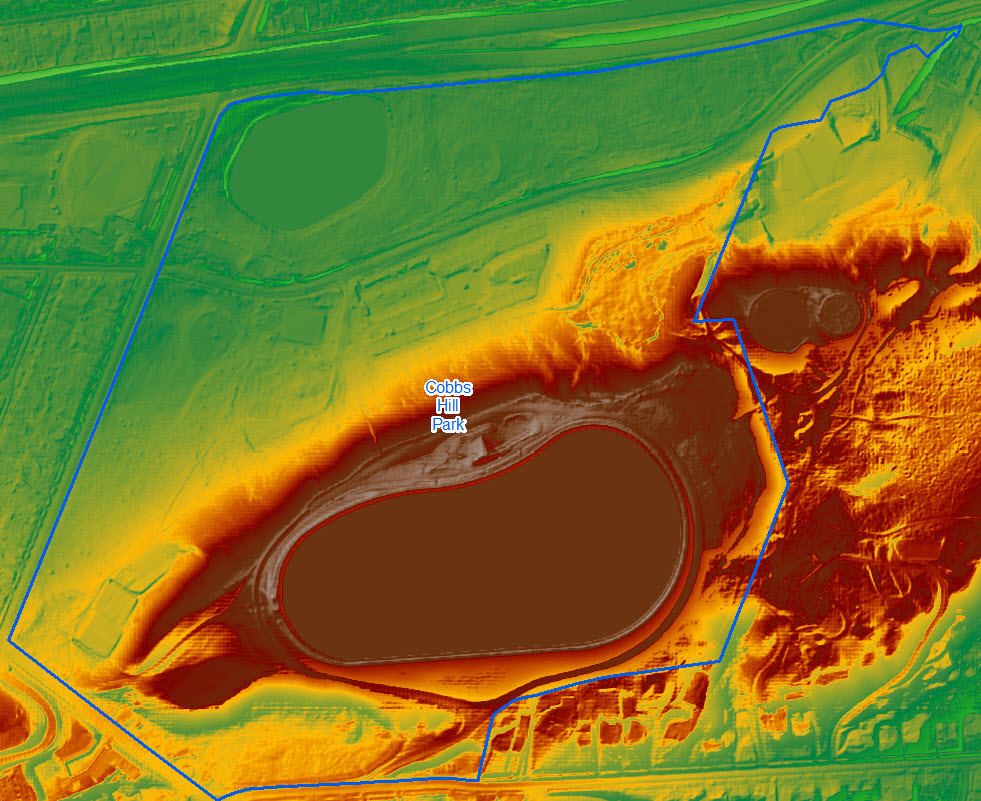 The GIS Division offers LiDAR data consisting of contour lines and digital elevation model rasters in ESRI Geodatabase format. This data format can be extracted into shapefiles or GeoTiffs and should be usable in most GIS and CAD programs. A sample for Cobbs Hill Park can be downloaded here.
Data Files Terms & Conditions
THE MAP PRODUCT(S) WHICH YOU ARE DOWNLOADING ARE SUBJECT TO THE FOLLOWING TERMS AND CONDITIONS.
Disclaimer:
Monroe County provides Geographic Information Systems (GIS) data as a service to the public. Neither the County of Monroe nor any of its contractors make any representations, warranties (express or implied), or guarantees concerning the suitability, accuracy, authenticity, or reliability of this data or any other data incorporated therein. Your use of this information is at your own risk. The County of Monroe, its officers, employees, agents, and contractors shall not be held liable for errors contained herein or for any direct, consequential, incidental or special damages, including but not limited to, attorney fees, as a result of the data and/or the information contained therein. By clicking on the accept button, you acknowledge that you have read the above disclaimer, understand its terms and conditions, and hereby accept these terms and conditions and agree to waive and release the County of Monroe, its officers, employees, agents, and contractors from any such liability.
Copyright:
Monroe County reasonably believes that making this information available for your inspection is not an infringement or other violation of any intellectual property rights. To the extent copyright in said information is held by Monroe County, you are hereby permitted by Monroe County to copy, distribute, and otherwise use the information with one exception: no one is permitted to sell this information except in accordance with a written agreement with Monroe County. Provided, however, the information made available contains material for which others may assert a copyright or other property interest, Monroe County and its officials and employees make no warranty or guarantee as to the ownership of any intellectual property or other property interest contained in the information. Furthermore, Monroe County expressly disclaims any responsibility to defend or indemnify you against claims which others may assert based on your copying, distribution, or other use of any of the information.
Jurisdiction and Venue:
The exclusive jurisdiction and venue for any dispute, action, or suit of any nature involving its content, including, but not limited to, actions for injury to a person or property or infringement of intellectual property rights, shall reside in either the Federal District Court. New York and federal law, as applicable, shall apply to all such matters.
Revised January 13, 2021