Park Information
At 447 acres, Ellison Park has the beauty of natural woodlands combined with steep slopes and the level flood plain of the Irondequoit Creek. Ellison has 5 softball diamonds, 1 multi-use athletic field, and a playground. It has an off-leash Dog Park. Tennis courts are located in the park off Blossom Road, and are lined for Pickleball also. There is one designated sledding hill located in Ellison Park. A non-motorized/car-top boat launch is located by the Circle Shelter allows you to boat in Irondequoit Creek. Fishing is also allowed. Ellison Park has many trails; their locations are shown on the trail map. Fort Schuyler is another attraction that the park offers; this replica of the original Fort is a great attraction for the whole family.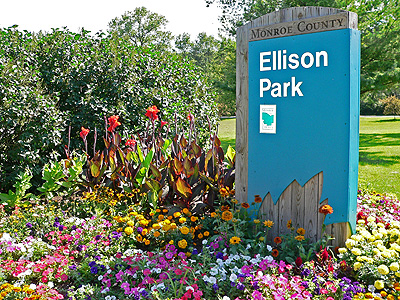 Location and Directions
The park office is located at 395 Rich's Dugway, Rochester, NY 14625. The main entrance of this park is located east of route 590 on Blossom Road in the Town of Penfield.
Common Recreation Activities at Ellison Park
Baseball/Softball
Bicycling (no off-road cycling permitted)
Disc Golf (seasonal 18-hole course)- baskets are up for the season from mid-April until mid-November
Dog Park (legal off-leash; registration required)
Fishing
Geo-caching (approximately 20 caches)
Hiking/Running
Horseback Riding
Ice Skating (seasonal and weather-dependent)
Kayaking/Canoeing (launch available on south side of park)
Kickball
Multi-use Athletic Fields
Pickleball (seasonal)
Playground
Sledding (seasonal, and in designated areas only)
Snowshoeing (non-groomed, and seasonal)
Tennis (seasonal)
Ultimate Frisbee
Creek access
Rules and Regulations
Ellison Park is open daily 7:00 a.m. until 11:00 p.m. and has a Carry-in Carry-out rule, which means you must take all your garbage with you for disposal after leaving the park.
All pets must be leashed and you are responsible for cleaning up after them.
Amplified music is not allowed at the South Lodge or the Island, Spruce, Circle and Sycamore Shelters.
Lodges and Shelters
This park has four enclosed lodges and six open-air shelters including a premium lodge, the Pavilion Lodge!
For information and reservations please call 585 753-PARK (7275) or go to our Online Lodge & Shelter Reservation System.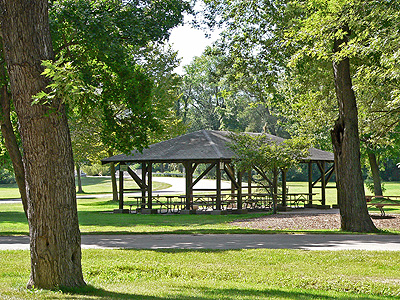 History
Officially the first Monroe County Park, Ellison Park came into being in December of 1926. The county accepted approximately 200 acres of land from Mr. and Mrs. Frank T. Ellison in memory of Mr. Ellison's father, Nathaniel. Ellison Park has been the hub of many historical events and locations. Indian Landing which was located on Irondequoit Creek, for many years was used by the indigenous Iroquois as the beginning of the portage route which stretched along Ellison Park.
The Lost City of Tryon, originally founded in hopes of creating a commercial settlement, used the Irondequoit Creek for trade. A store was built that bartered with the Seneca Indians, beginning its trading roots.
Restrooms
There are four restrooms located in the park. There is one located by the Disc Golf Course off Landing Road (open seasonally between May 1st and October 15th). There is another behind the Hazelwood Grove Lodge. Another facility is located by the Creekside Lodge. The last restroom is located by the Sycamore Shelter (open seasonally between May 1st and October 15th). All of the restrooms have flush toilets. See the park map for specific locations.
Trails
Before heading out to Ellison Park print the park map. The color coded hiking trails and additional details will keep you on the right track.
Coyote Den Trail, this 1.1 mile walk (one way) passes by a few ponds and walkers can expect to see many birds and other wildlife.
Overlook Trail, this .6 mile walk overlooks Thomas cove and the stone quarry.
Mill Race Trail, this .4 mile walk, shows the stages between wetlands and a forest.
Indian Landing Trail, this 1.5 mile walk, is full of history, from the location of an old trading post (Fort Schuyler), to the presumed famous Butlers's Rangers hideout, marked with commemorative plaques.
Butlers Gap Trail, this .7 mile walk (one way) has many interesting historical features as well as an intersection that overlooks the wetlands.
Disc Golf
Disc golf is open for play from approximately early/mid April until mid-November, dependent upon ground conditions and weather. If you've never played before, there's never been a better time to get out early and learn. Contact the Greater Rochester Disc Golf Club at www.grdgc.org for more information about the sport.
The Greater Rochester Disc Golf Club worked very hard with the Parks Department to re-route the course.
Playgrounds
There is one playground facility in Ellison Park. It is located on the north side of Blossom Road, near Roadside Shelter. See the park map for the specific location.
Athletic Fields
Ellison Park has five softball fields and one multi-use athletic field that are available for rent. Click here to request a field reservation online or call 585 753-PARK (7275) for more information.
​The five softball fields are located throughout the park; #1 and #2 are near Circle and Sycamore Shelters; #3 and #4 are along the road leading to the South Lodge, and #5 is by the Old Meadow Shelter. There are also 3 tennis courts that are lined for Pickleball, and one court lined only for Pickleball. These courts are located off Blossom Road.
Winter Activities
Ellison Park offers two designated sledding hills, and an ice skating rink. The sledding hills are located off Landing Road by the Disc Golf Course.
The ice skating rink is located in the large parking lot off Blossom Road. There are no skate rentals; you must bring your own.
For rink conditions call 585 753-PARK (7275) during the week between 8:30am and 4:30pm, or 585-753-7270 on weekends between 10am and 4pm.
​Groomed natural-ice surfaces are in Churchville, Ellison, and Highland Parks.
Ice skating is not permitted elsewhere in the Monroe County Parks.
When ice conditions allow, the skating hours at Ellison are as follows:

Monday through Sunday: 10am- 10pm

Equipment is not available for rent in any park.
There is no warming hut available nearby the rink at Ellison Park.
Ice conditions will vary depending on weather.
Skating is done at your own risk.
Water Activities
Fishing is allowed in Ellison Park as long as those fishing are following NYS Department of Environmental Conservation guidelines and rules and have the required licenses. There is a non-motorized/car-top Boat Launch located on the south side of the park, near Circle Shelter.