Plastic Bags
Existing Regulations
New York State's Plastic Bag Reduction, Reuse and Recycling Act has been in effect since January 1, 2009. It requires stores with 10,000 square feet or more of retail space and chains which operate five or more stores with greater than 5,000 square feet of retail space, and which provide plastic carry out bags to customers must establish an "at-store" plastic bag and film plastics recycling program. Stores must make collection bins for plastic bags and film plastic recycling available to customers in a visible, easily accessible location. See the law for additional details.
Plastic bags are NOT acceptable for Mixed Recycling. Click here for a plastic bag and film recycling information card to learn what types of materials can be returned to retailers and the ecopark for recycling.
New Legislation Banning Single-Use Plastic Bags in New York
On April 22, 2019 Governor Cuomo signed the New York State Bag Waste Reduction Act. The sale of single-use plastic bags in New York will be banned as of March 1, 2020.  All stores that collect sales tax (retailers, grocery and small businesses) will be impacted. Bags made of cloth and other durable materials with handles are not included in the ban. Plastic bags will still be allowed for uncooked meat/fish/poultry, bulk items (produce, candy), sliced or prepared foods, newspapers (delivered), prescription drugs, carryout orders at restaurants/taverns, garment bags, and bags prepackaged for sale to a customer (trash bags, food storage bags).
Paper bags will not be banned.  According to a press release by the Governor's office, "Counties or cities will also be permitted to charge a five cent fee for single-use paper bags. Three cents from the fee will go to the Environmental Protection Fund, while the other two cents will go to the locality to pay for distribution of reusable bags." If implemented residents that receive SNAP or WIC are exempt from the fee.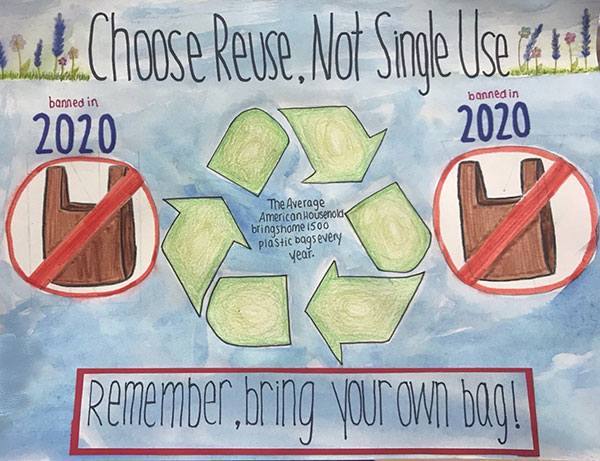 Artwork by Alayna Meyer for the NYSDEC New York Recycles! Poster Contest

print this page   

email this page   

back to top
Accessibility and Standards · Disclaimer and Privacy Policy · Non-Discrimination Policy
Official Site of Monroe County, New York. Copyright © 2019 Monroe County. All Rights Reserved.
Comments or suggestions? Please e-mail the MonroeCounty.gov webmaster.