Phone: 585-428-7300
Fax: 585 428-8353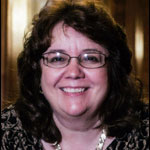 Patricia Uttaro
Director
The Monroe County Library System (MCLS) is a federation of independent public libraries working together to improve library services for residents of Monroe County. Established in 1952 by the Monroe County Board of Supervisors, the MCLS is one of 23 systems chartered by the New York State Board of Regents and is directed by an eleven-member board of trustees appointed by the County Legislature. Its members include the libraries of sixteen towns, two villages, a school district and the City of Rochester. Each library retains its own autonomy under the governance of its own board of trustees and is funded through local tax support.
Member libraries are located in Brighton, Brockport, Chili, East Rochester, Fairport, Gates, Greece, Irondequoit, Hamlin, Henrietta, Mendon (Honeoye Falls), Ogden, Parma (Hilton), Penfield, Pittsford, Riga (Churchville), Rush, Scottsville, Webster and the City of Rochester.
The Rundel Memorial Building and the Bausch and Lomb Public Library Building, located at 115 South Avenue in downtown Rochester, serves as the Central Library for Rochester and Monroe County as well as the operating hub of the MCLS.
The MCLS improves library services by increasing access to information, by reducing the cost of repetitive, labor-intensive library operations and by providing for sharing of resources. Services provided by the MCLS are funded by New York State and member libraries, and include an integrated library system (catalog), materials catalog and technical services, interlibrary loan, database development, outreach services (senior in-home, NYS and County jails), shipping and delivery, consultant and advisory services, training, administration (grants, communications, promotions, etc.) reference and information referral, digital transmission and internet access services, and other information technology services via the MCLS network.
The MCLS provides core services to member libraries and their customers/patrons across Monroe County. The MCLS is successful in implementing and maintaining state-of-the-art technology solutions, providing research expertise and collection support, maximizing purchasing power and spearheading collaborative library and community initiatives. The MCLS website provides more information about library resources and services, as well as direct links to individual member libraries' sites. From the MCLS website, patrons can view the library catalog, place holds, register for a library card, access online research databases, download e-resources (ebooks, audio books, music and videos), and much more.
Visit The Monroe County Library System Website