Park Information
Whether taking a romantic stroll along its picturesque pier, riding the Historic 1905 Dentzel Carousel, or swimmimg, Ontario Beach Park provides all that's necessary for a perfect summer day at the beach. Ontario Beach Park attracts tens of thousands of visitors annually. The park is a total of 39 acres and offers five shelters and one lodge that are available for rent between May 1st and October 31st.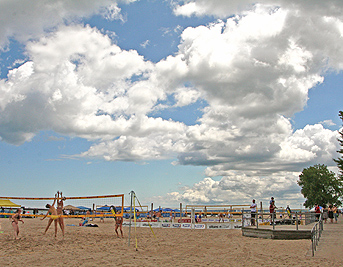 Location and Directions
Ontario Beach Park is located on the shore of Lake Ontario in the northernmost section of the City of Rochester near the Irondequoit border. The park is open daily from 7am-11pm.
The park office is located at 4650 Lake Avenue, Rochester, NY 14612.
Ontario Beach Park Big Band Dance Series
Swimming at Ontario Beach
Swimming is closed for the 2023 Season.
Common Recreation Activities at Ontario Beach Park
Baseball/Softball(Charlotte Youth Association)
Beach Volleyball
Carousel (seasonal)
Fishing
Geo-caching (approximately 2 caches)
Ice Skating on our NEW Synthetic Ice Rink
Pickleball (seasonal)- nets go up for the season from May 1st until October 31st
Swimming (seasonal)
Rules and Regulations
Ontario Beach Park is open daily 7:00 a.m. until 11:00 p.m.
Glass containers are prohibited within the park
No pets allowed within parks grounds
Amplified music is not allowed within the park
No motor vehicles are allowed on park walkways
Swimming is only permitted when lifeguards are on duty
Lodges and Shelters
The five open air shelters come with picnic tables, grills, electricity, water and bathrooms nearby.
The Roger Robach Community Center is available for weddings, parties, and picnics! It is located beachfront at Ontario Beach Park (180 Beach Ave, Rochester, NY 14612. Photos and reservations are available in our reservation system.
Pickleball
Our 6 pickleball nets at Ontario Beach Park open for the season in early May and are open through late October. They are located at the Roger Robach Community Center on Beach Ave.
Concerts By The Shore
Click here for the schedule on the Ontario Beach Park Program Committee's website.
Operating Schedule for the Historic Dentzel Carousel
The 2023 Operating Schedule:
Memorial Day Weekend – Open Friday, May 27 through Memorial Day (FREE rides)
Post-Memorial Day until June 26 – Open Weekends (Saturday and Sunday)
June 27 through Labor Day – Open Daily (7-Days per Week)
The Carousel's 2023 Hours of Operation are: 12:00 p.m. to 7:00 p.m.
After Labor Day through October: Saturdays and Sundays 12:00 p.m. to 7:00 p.m.
The Carousel's 2023 Price Schedule is, as follows:
Single Ride -- $1.00
Punch Card (12 rides for the cost of 10) -- $10.00 **Valid Any Time**
Wrist Band (Ride All Day) -- $5.00
All rides FREE Friday May 27th – Monday May 30th
Children 2 and under ride for free with a paying adult.
The carousel has also been modified to accommodate ADA accessibility.
The carousel was carved and created by the firm of G.A. Dentzel in Philadelphia, Pennsylvania. It was installed at Ontario Beach Park in 1905, and has remained in its original location, ever since. The carousel is a menagerie model and consists of 52 riding animals and two chariots, set in three rows. The hand-carved animals include: 22 Jumping Horses; 11 Standing Horses; 3 Cats; 1 Deer; 1 Giraffe; 1 Goat; 1 Lion; 2 Mules; 3 Ostriches; 3 Pigs; 3 Rabbits; and 1 Tiger. In 1984, the County initiated a complete restoration of the animals to their original condition.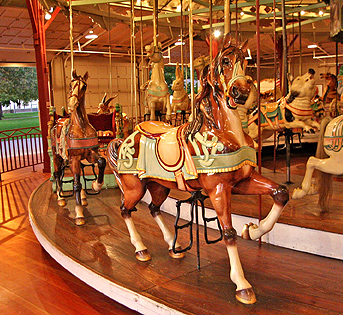 Synthetic Ice Rink
Our Synthetic Ice Rink is currently closed for the summer as we use the shelter for rentals but don't worry, it will be back soon! This rink isn't weather dependent so it can be used in rain, sleet, or snow and even in warm temperatures! The multi-polymer panels are almost indistinguishable from real ice while skating on it and its located within Sandpiper Shelter for some protection from the elements. Check back here for updates as to when the rink will be back!
Playgrounds
There is one playground in Ontario Beach Park. See the park map for specific locations.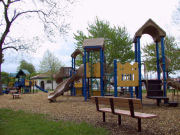 Restrooms
See the park map for specific locations.
Athletic Fields
Ontario Beach Park has six beach volleyball courts that are available for rent. Click here for the Special Use Application or call 585 753-PARK (7275) for more information.
We started accepting Special Use Field Applications for the upcoming year on the last Friday in January at 8:30am
The baseball fields are scheduled and managed by the Charlotte Youth Association.