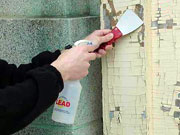 Lead Training (FREE)
Common renovation activities like sanding, cutting, and demolition can create hazardous lead dust and chips by disturbing lead-based paint. This grant funds Free Lead Skills Training. Training is provided by Cornell University – Industrial Labor Relations.
Lead Remodeler Renovator Initial 8-Hour Training*
To become a certified renovator, an individual must successfully complete an 8-hour initial renovator training course and pass the hands-on skills assessment and exam.
Training is FREE and open to the general public. Seating is limited but pre-registration is required (see below).
*As of April 2010, federal law requires contractors to become EPA Lead Certified Renovators.
The new Lead Renovation, Repair and Painting rule (LRRP) affects anyone who is paid to perform work that disturbs paint in housing and child-occupied facilities built before 1978.  This includes: residential rental property owners/managers, general contractors, maintenance personnel and trade contractors, including: HVAC, painters, plumbers, carpenters and electricians. Link to EPA for detailed information on
new Federal Lead Rules for Contractors
Additional information is available at Cornell University's website: http://www.ilr.cornell.edu/worker-institute/education-and-training/workplace-health-and-safety/training/lead-based-paint-training
For additional information on Lead training opportunities see the City of Rochester's
website.
EPA Disclosure Information for Property Owners, Renters and Renovators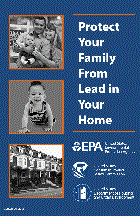 Two federal laws regarding notification and disclosure of lead information may affect you before you sell or remodel your property:
BEFORE YOU SELL/RENT

Effective December 1996, as per Section 1018 of the Residential Lead Based Paint Hazard Reduction Act of 1992, sellers and landlords must disclose information on known lead-based paint and lead-based paint hazards in residential housing, and provide any available reports to prospective buyers or renters. In addition, sellers and landlords must give buyers and renters the pamphlet entitled "Protect Your Family from Lead in your Home" and keep a record of such distribution. All real estate closings should include a disclosure form as part of the transaction.

BEFORE YOU RENOVATE
Effective December 2008, as per 40 CFR Part 745 Lead; Renovation, Repair and Painting Program and Section 406(b) of the Toxic Substance Control Act, Title IV- Lead Exposure Reduction, renovators and remodelers working for compensation, are required to distribute the pamphlet "Renovate Right" to owners and occupants of most residential housing built before 1978 before commencing renovation activity. Minor housing repairs, maintenance, and emergency repairs are excluded from this notification requirement.

Effective April 22, 2010 renovators, remodelers and trades that disturb paint on housing built before 1978 are to work under an EPA Lead-Safe Certified Firm.  The Lead-Safe Certified Firm is to provide an EPA Certified Renovator for various stages of work.  The Certified Renovator is responsible for the on the job training of other workers.
   Additional Local Requirements
          NYS Sanitary Code, Lead Poisoning Prevention and Control,  Part 67: 
                  https://www.health.ny.gov/regulations/nycrr/title_10/part_67/
           NYS Public Health Law, Title X, Control of Lead Poisoning, Section 1370: 
                    https://www.nysenate.gov/legislation/laws/PBH/1370
           Monroe County Sanitary Code, Article IV, Habitable Buildings: 
Informational Links
Helpful Documents
Educational Materials on Lead Poisoning in Other Languages
The New York State Department of Health has translated a number of materials into other languages. Click here to view a list.