Office of Safety and Security
City Place
50 W. Main St., Suite 4122
Rochester, NY 14614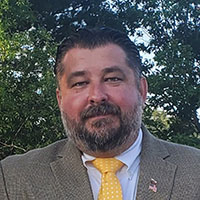 Peter Z. Mikiciuk,
Safety & Security
Administrator
The Office of Safety and Security holds numerous responsibilities throughout Monroe County. Our mission is to provide physical protection of County Employees and visitors at numerous County sites while maintaining the highest degree of integrity. Dedicated security professionals are monitoring County assets twenty four hours a day, seven days a week while providing support by implementing strategic security access contral measures as well as monitoring strategically placed cameras.
Other responsibilities of the Office of Safety and Security include:
Monitoring access control alarms located in security sensitive areas.
Maintain and monitor security screen stations located at County buildings.
A dedicated road patrol that monitors County sites.
Creating, implementing, and practicing Emergency response plans at County sites.
Responding to and providing support to County sites during events that could cause possible disruption to County services.
Conduct Security assessments at County sites to determine if/what strategic measures to further protect County assets.
Develop and train employees on security specific topics.
Provide support to local law enforcement agencies, fire departments, and EMS agencies.

print this page   

email this page   

back to top
Accessibility and Standards · Disclaimer and Privacy Policy · Non-Discrimination Policy
Official Site of Monroe County, New York. Copyright © 2019 Monroe County. All Rights Reserved.
Comments or suggestions? Please Contact Us