Registration and Renewal
NEW! Dog park registrations and renewals can now we completed online and paid with a credit card.
Dog park registrations and renewals can be done online or by coming into the Monroe County Parks Department office during our business hours, or by printing off the appropriate forms and turning them in at the Monroe County Parks office, either into the dropbox or by mailing the forms in.
New members should submit the Dog Park registration form and the Dog Park agreement, as well as paper copies of both the Dog license issued by your municipality and a rabies certificate from your veterinarian (paper copies not metal tags). Renewals only need to submit the renewal paper work and a paper copy of the Dog license issued by your municipality.
Online Registration / Renewal Form
All applications need to packed into an envelope along with a check for $24 made payable to the Monroe County Parks department.
Applications processed after October 1st 2022 are part of our extended application period, meaning they will cover both 2022 and 2023 permit for one cost.
Once everything has been submitted we will review the application mail back codes and dog tags upon approval.
Dog Parks Overview
Monroe County Department of Parks hosts Off-Leash Dog Areas (Dog Parks) at both Ellison and Greece Canal Parks, as well as a reciprocal agreements for use at Henrietta Dog Park in the Town of Henrietta, Sweden Town Park in the Town of Sweden, and Pittsford Dog Park, in the Town of Pittsford.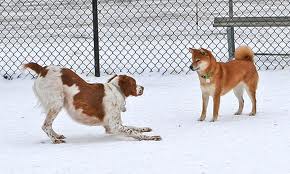 Hours/Rules
HOURS: 7am to Dusk
Each dog visiting must be a registered member of the Monroe County Dog Parks.
Entrance will only

be allowed

to those in possession of a valid Monroe County Dog Parks swipe card, tag

for each dog

, and paper copy of their permit/s. Dogs must be wearing the up-to-date Monroe County Dog Parks tag.
Frequently Asked Questions
Q. Where/When can I register my dog(s)?
You may register your dog for the Monroe County Dog Parks online or at the Monroe County Parks Administrative Office, located at 171 Reservoir Avenue, Rochester, NY 14620, across the street from the Lamberton Conservatory in Highland Park. Registraion is open during regular business hours, from 8:30 am to 4:30 pm, Mondays through Fridays (excluding Holidays).
Please be sure to bring these TWO DOCUMENTS (not the metal tags) for BOTH:
Your dog's or dogs' License/s from your Town or City, with current address
AND your dog's or dogs' Rabies Certificate/s
Q. How much does it cost to register my dog(s)?
The annual fee for access to all Monroe County Dog Parks is $25 per dog (If you pay by cash or check, you receive a $1 discount and pay $24.)
Q. How can I pay to register my dog(s)?
Cash, checks, and credit cards are accepted for payment
Q. What information do I need to bring with me for registration?
Proof of dog's age (All dogs must be at least 6 months old to register)
Current copy of your dog(s) license(s) from your Town or City, with current address. This includes dogs from out of county or state.
Current copy of Rabies Certificate (we require the documentation, not the metal tag)
Q. How long does registration take?
Only 5-10 minutes, as you will just need to fill out a permit and agreement in person, while we process your other documentation. (These documents are not available online for download in advance, as they are filled out in triplicate.)
Q. ​For what period of time is the registration valid?
​New registrations are required annually. All registrations expire on December 31st of each year.
Any registration processed after Oct 1st, is valid through the end of the following year. If registration occurs before Oct 1st, it is only valid through the end of the current calendar year.
Renewal packets for the following year will be mailed to currently registered Dog Park members by late November.
Q. ​What do I need to know before I use the dog parks?
Monroe County Dog Parks are built with donated funds and not local taxpayer dollars. Fees collected from registrations go directly into the Dog Park Trust Fund.
Q. What are the benefits of dog parks?
Providing a legal recreational outlet for dog owners who want to exercise and socialize their dogs in a safe, leash-free environment
Preventing unwanted encounters between unleashed dogs and other park users
Allowing people with limited mobility to exercise their dogs in a safe, accessible place
Bringing people together to promote a greater sense of community
Q. What if I have other questions, not answered by the information listed above?
Feel Free to call the Parks Department Staff at 753-7275 (PARK), or click here to send us an email inquiry.
Q. How can I make a charitable contribution to the Dog Park Trust Fund?
​Donate by Check: Please make your check payable to "Monroe County Parks Department" and include "For Dog Park Trust Fund" on the memo line. Mail your check to:
Friends of the Monroe County Dog Parks
c/o Monroe County Parks Department
171 Reservoir Avenue
Rochester, NY 14620