Park Information
At Webster Park, you'll discover 550 acres beautiful evergreen-planted slopes, rolling lakeshore breakers and cool green valleys. Located along the shore of Lake Ontario, this Monroe County Park even has a fishing pier. There are tennis/pickleball courts, a scout/youth camping area, and a family Trailer/Tent campground in the park.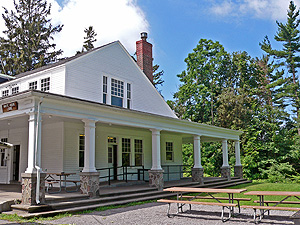 If you would like to make campground reservations for personal use at our Webster Park public campground, click here for our online reservations system. During the camping season (May 1st until October 31st) you can call the Campground directly at (585) 872-5326.
We have sites that can accommodate:

Tents
Small trailers/pop-ups (under 25 feet), and
Large Trailers/RVs/Mobile Homes (26 feet or over)
The park has four enclosed Lodges that accommodate between 36 and 100 people. Most have picnic tables, wood burning stoves and grills. The White House and Lakefront Lodge have full kitchens with a refrigerator, sink, stovetop and oven, as well as folding tables & chairs. The park also includes six open-air shelters that have picnic tables, grills, and bathrooms.
For information and reservations please call 585 753-PARK (7275) or visit our Online Lodge & Shelter Reservation System.
Location and Directions
Webster Park is located at 255 Holt Road, Webster, New York 14580, in the northeastern portion of the county, on the shore of Lake Ontario. Enter the park from Lake Road or Holt Road.
Common Recreation Activities at Webster Park
Birdwatching
Camping (by reservation only)

public RV, Trailer, Mobile Home, Tent campground available
youth/scout groups

Cross-Country Skiing (some groomed trails)
Dog Park - Monroe County opened its third dog park at Webster Park in October 2023
Fishing- Fishing is allowed in Webster Park as long as those fishing are following NYS Department of Environmental Conservation guidelines and rules and have the required licenses.
Geo-caching (approximately 40 caches)
Hiking/Running
Kayaking/Canoeing
Lodges/Shelters for Rent
Orienteering
Pickleball (seasonal)
Playground
Sledding (in designated area only)
Snowshoeing
Tennis (seasonal)

Access to creek and lake

Pier
Rules and Regulations
Webster Park is open daily 7:00 a.m. until 11:00 p.m. and has a Carry-in Carry-out rule, which means you must take all your garbage with you for disposal after leaving the park. All pets must be leashed and you are responsible for cleaning up after them.
Restrooms
See the park map for specific locations.
Trails
Before heading out to Webster Park print the map. The color coded hiking trails and additional details will keep you on the right track.
The Ridge Trail is a 1.4 mile walk that is bordered by maple, ash, and many other types of trees. While on this trail check out the fishing pier which has a wonderful view of Lake Ontario.
The West Look Trail is a 1.6 mile walk that is great any time of year. The highlight of this trail is the West Field portion, this field is in the secondary stage of succession. You will be going through woods which are a great habitat for wild turkey.
The Valley View Trail is a .6 mile walk that passes through a former orchard that is filled with seckle pear, apple, crabapple, and cherry trees. This trail is full of birds in the spring and summer months, and is a great place to see a variety of animals.
The Ryan's Point Trail is a .5 mile walk that is a good cross country trail, that takes you under a line of trees, and has many different groupings of seasonal plants.
The Orchard Trail is a .8 mile walk around a portion of Mill Creek though ash, oak, maple and many other types of trees. Seasonally it has many different kinds of plant life.
Winter Activities
Webster Park has one designated sledding hill which is open to the public. The sledding hill is located next to the Parkview Lodge, right off Holt Road.
There are also some groomed trails for Cross-Country Skiing, thanks to the Rochester Cross Country Ski Foundation.