Office For The Aging
435 East Henrietta Rd.
3rd Floor, Faith-East
Rochester, NY 14620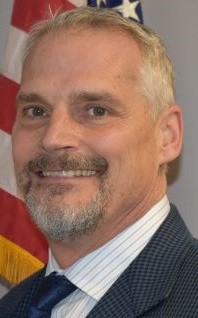 Steve Newcomb, Director, Office for the Aging
In Response To COVID-19
if you are 60 and over or a family caregiver contact NY Connects/ Lifespan at (585) 325-2800 or (585) 244-8400 for assistance in getting medications, or getting groceries, or preparing meals.
COVID-19 Exposure Tracker App
New York State Department of Health in partnership with Google and AppleNew York has launched a COVID Alert NY the official Exposure Notification App.
This is a free smartphone app for anyone 18+ that lives and/or works in New York available for download in the Google Play Store and Apple App Store starting October 1st. The COVID Alert NY app notifies users if they have been in close contact with someone who has tested positive for COVID-19. Upon receiving an exposure notification, the app will encourage users to contact their physician or the State Health Department hotline (1-833-227-5045) to get more information about quarantining and testing.
Anyone who downloads the app does not have to worry about being tracked, identified or having their personal information shared. The app is completely anonymous and does not track your location or movement. No personal data is collected. COVID Alert NY uses Bluetooth proximity-enabled exposure notification technology provided by Apple and Google which is safe and secure.
Learn More About COVID Alert NY
Meal Opportunities
The following Senior Centers are offering Grab-n-Go boxed meals. Contact the Senior Centers directly to RSVP and get more information.
Baden - Lunch Monday - Thursday

[Temprarily closed]

Centro de Oro -

Lunch Monday - Friday

Charles Settlement House - Lunch Monday - Friday
Community Place -

Lunch Monday - Friday

Lifespan Wolk Cafe - Lite Breakfast and

Lunch Monday - Friday

Lifetime Assistance Lodge on the Canal -

Lunch Tuesday and Friday

Montgomery Southwest / Swan - Lunch Monday - Friday

[Temprarily closed]

Town of Chili - Lunch Tuesday

Town of Henrietta - Lunch Monday - Wednesday

Town of Greece - Lunch Monday - Friday

Town of Hilton / Parma - Lunch Tuesday

Town oif Irondequoit - Lunch

Monday - Friday

Town of Ogden -

Lunch Monday, Wednesday and Friday

Town of Pittsford - Lunch Monday, Wednesday and Friday

Town of Webster - Lunch

Monday - Thursday

Town of Wheatland - Lunch

Monday and Wednesday
COMBAT SOCIAL ISOLATION
Human beings are social creatures. Our connection to others enables us to survive and thrive. Yet, as we age, many of us are alone more often than when we were younger, leaving us vulnerable to social isolation and loneliness—and related health problems such as cognitive decline, depression, and heart disease.
Social isolation significantly increases a person's risk of premature death from all causes, a risk that may rival those of smoking, obesity, and physical inactivity.

Social isolation is associated with about a 50% percent increased risk of dementia.

Poor social relationships (characterized by social isolation or loneliness) is associated with a 29% increased risk of heart disease and a 32% increased risk of stroke.

Loneliness is associated with higher rates of depression, anxiety, and suicide.

Loneliness among heart failure patients is associated with a nearly 4 times increased risk of death, 68% increased risk of hospitalization, and 57% increased risk of emergency department visits.
Social Isolation Activities
Board and Card Games – Yahtzee, Scrabble, Solitaire, Concentration and Trivial Pursuit are games that can be played alone, or virtually online. These are areas where working memory functions.

Puzzles – Puzzles are a great way to pass time, and studies have shown improvements in memory when seniors worked on puzzles for as little as 45 minutes a day, twice per week.

Brain-Training Computer Games – This can reduce dementia by up to 28%.

Memory Boxes – Memory boxes are a good way of stimulating and recalling favorite memories. Build a collection of old photos, items reminiscent of work or volunteering, and any objects that mean something and put them in the box to peruse when bored. If someone is especially agitated, looking at these objects may have a calming effect.

Old movies – Many of us have old home videos or movies featuring family fun or our favorite performers. Furthermore, there are so many television channels and streaming platforms from which to choose, virtually any movie or classic TV show can be found and binged!

Books – Escape reality by diving into a novel. You probably have a small library from which to choose, so gather a few hard covers or paperbacks and do some reading. If you have an e-reader, consider a new release. Many libraries have curbside pickup or delivery as well.

Exercise – Chair exercises, walking, riding a stationary bike, yoga, dance, Tai Chi, and almost anything that gets the body moving, will help strengthen muscles and improve mood and mental acuity by increasing oxygen and blood flow to the brain.

Crafts – Many people love to craft, and crafting can take many different forms. Knitting, needlepoint, painting, stenciling, stringing beads, arranging flowers or making musical instruments are just a few examples of crafts suitable for seniors.

Music – We all have our favorite tunes, musicians, bands, and genres of music. Turn on your favorite tunes while you're relaxing, cleaning, playing games, or exercising. Music has a way of soothing the soul!

Cook – If you enjoy cooking and baking, cook and bake!

Communicate – Reach out to family, friends, and neighbors to see how they're doing during this crazy time. The recipient of a call, text, email, letter or card will feel very special and it will be good emotional support for you both!
Check out detailed list of resources and activities that can keep you engaged while you are home
SENIOR FARMERS MARKET NUTRITION PROGRAM
Please find more information on the program here. We recommend that you call the distribution site to see if they have specific dates for distribution and to see if they have any remaining coupon books.
We Excel In Aging Well!
The Monroe County Office for the Aging (MCOFA) was established by the Monroe County Legislature in 1973 and designated by the Federal and State governments as the Area Agency on Aging under Title III of the Older Americans Act for our service area. MCOFA is proud to celebrate over 47+ years of delivering high quality, efficient, and effective long-term care services and supports to meet the changing needs of our community's older adults, caregivers of any age, and individuals with disabilities.
MCOFA is an administrative division within the Department of Human Services (DHS) and the governmental entity authorized to receive and allocate Older Americans Act and state funds for services and supports of community based long-term care. The primary responsibilities of MCOFA focus on planning, advocacy, and coordination activities.
These responsibilities are:
To develop and implement a consumer-focused comprehensive four-year plan of coordinated services responsive to the priority needs of older persons, caregivers, and persons with disabilities in Monroe County. Services under this plan are delivered either directly by MCOFA, or through community based organizations under contract with Monroe County. This plan is known as the "Area Plan" and MCOFA submits annual updates to the New York State Office for the Aging to meet the changing short and long-term needs of those served in Monroe County.

To advocate on behalf of the needs of older adults, caregivers, and persons with disabilities. MCOFA does this by monitoring, evaluating, and commenting on policies, programs, and community actions which affect individuals served in Monroe County.

To coordinate our planning and service activities with other agencies and organizations to promote the most efficient use of existing resources and to promote new and expanded benefits for older adults, caregivers, and persons with disabilities in Monroe County.

To assist in the transformation of our system to provide flexible services that are person/family centered, strengths-based, culturally competent and evidence-based.
To accomplish these objectives, MCOFA collaborates extensively with other DHS and county divisions, service providers, and community groups. Services are targeted to individuals with the highest social and economic need. An appointed Council for Elders made up of area professionals and consumers advises MCOFA in accordance with Older Americans Act regulations. This Council advises in the following areas:
Assisting in the development of the Area Plan before submission to the New York State Office for the Aging (NYSOFA);

Conducting and attending public hearings;

Representing the interests of older adults (advocacy); and,

Reviewing and commenting on community policies, programs, and actions affecting older persons with the intent of assuring maximum coordination and responsiveness to older adults.
In 1973, there were 97,000 individuals 60 years of age and older in Monroe County. Today, there are more than 183,969 individuals age 60 and older, and 21% have at least one disability. It is our goal to ensure that Monroe County's older citizens have access to the programs and services they need to remain independent and "Excel in Aging Well."
Office For The Aging Goals:
Encourage safe, active, and independent lifestyles with timely and responsive systems of quality community-based services and supports;

Promote the rights of older adults and prevent their abuse, neglect and exploitation;

Empower older adults, individuals with disabilities, their families, and the public to make informed decisions about, and be able to access, existing health, long-term services and supports and other service options;

Promote job training and readiness skills for older adults who want to remain in the workforce, and to help care for our community's older residents and individuals with disabilities needing support to maintain independence.
Monroe County's NY Connects Program:
(585) 325-2800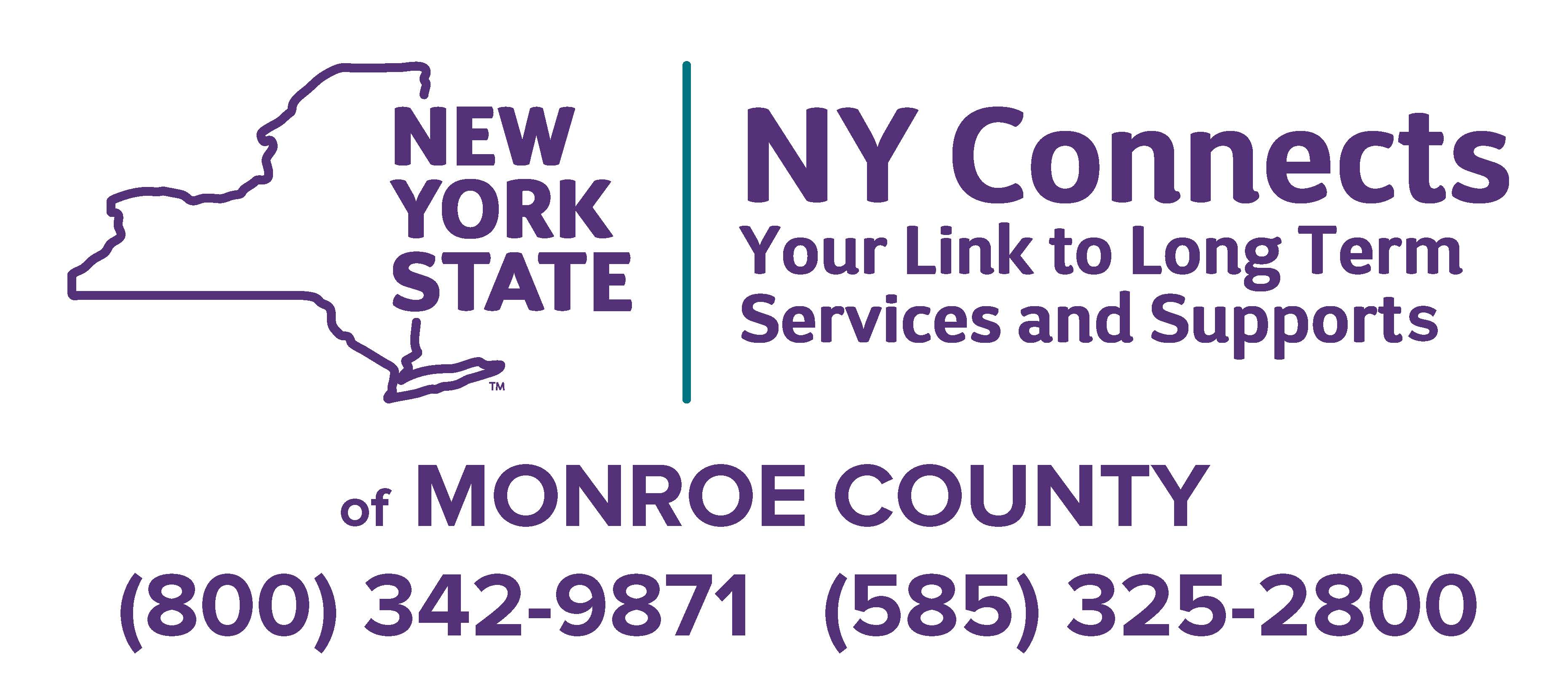 NY Connects: Your Link to Long-Term Services and Supports, is a free information and assistance service that is available to individuals and their families to help them make informed decisions regarding their long-term care needs. Advisors provide information regardless of the type(s) of disability or age of the individual needing help with long term care. Free translation services are available for individuals who do not speak English as a primary language or are Deaf and utilize American Sign Language.
Advisors are experienced social workers who provide information, guidance, and referral on an array of topics. Topics covered include housing, chore services, personal care, transportation, adult day care, respite for caregivers, guardianship, support groups, nursing home placement, Medicaid, public benefits, mental health counseling, home health care, socialization, nutrition, wellness programs to assist with chronic disease and falls prevention, geriatric physician referral and more.
NYS Resource Directory of Services
CALL FOR VOLUNTEERS
CALL FOR VOLUNTEERS

INTERESTED IN HELPING CAREGIVERS:
We, and our partner agencies, are always looking for volunteers. Volunteers are needed for help with data entry, special events, senior companions, respite relief and more. Are you looking for way to give back to your community? Are you interested in helping our community's older adults and the families that care for them? We have short term and long term opportunities. If yes, please call our offices at (585) 753-6280 or NY Connects at (585) 325-2800.
Caregiving is a difficult job. When we care for our loved ones, we are often afraid or even too tired to ask for help. If you are a Caregiver in need of a hand, or you want to help a caregiver and don't know how, please check out the Caregiver Respite Project:
The More You Know
Know your rights when it comes to Life Insurance and Life Settlements:
Helpful Online Resources
Monroe County Office for the Aging Programs and Services are funded in part by Monroe County, New York State Office for the Aging, US Administration for Community Living, United Way, and participant contributions. We value our partnerships in order to meet the needs of our community's older adults and their caregivers.

print this page   

email this page   

back to top
Accessibility and Standards · Disclaimer and Privacy Policy · Non-Discrimination Policy
Official Site of Monroe County, New York. Copyright © 2019 Monroe County. All Rights Reserved.
Comments or suggestions? Please Contact Us