Vital Records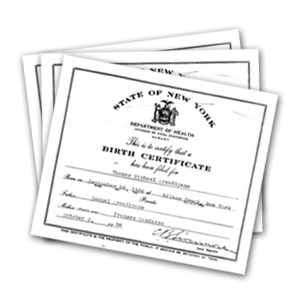 ATTENTION:  Effective immediately, the Vital Records Office will be temporarily closed to the public.  Orders for birth and death certificates may be placed online by clicking here or call our office at 585-753-5141 for more information. 
Vital Records Office Moved:
The Vital Records Office is now located at the Ames Building, 740 East Henrietta Rd, at the intersection of E. Henrietta and Crittenden Rds (near Rt 390 and the MCC Campus). Free parking available. Click here for an interactive map.

The Vital Records Office provides eligible applicants with copies of birth and death records that occurred in Monroe County from 1880 to the present. We do not have full images prior to 1928, which is a requirement for dual citizenship. Please contact the Albany Vital Records office at 1-855-322-1022. 
Order a Copy of a Birth or Death Certificate Online
 
Vital Records Office
NEW LOCATION: 740 East Henrietta Rd (see map above)
Rochester, New York 14623
(585) 753-5141
(585) 753-5961 (fax)
Hours (excluding holidays): Mon - Fri:  8:30 a.m. -  4:30 p.m.
Last Saturday of each month:  8:30 a.m. - 12:00 p.m. at the Greece DMV branch located within the Mall at Greece Ridge (except during the months of November and December). Limited records are available at this site. Temporarily unavailable until further notice.
Obtaining Pre-Adoption Birth Certificates
Effective January 15, 2020, NYS will allow adult adoptees over the age of 18 and direct line descendants on behalf of a deceased relative to access their pre-adoption birth certificates.  Monroe County does not have access to these records.  For more information about obtaining a pre-adoption birth certificate, please go to https://www.health.ny.gov/vital_records/preadoption.htm or call the Albany Vital Records Office at 1-855-322-1022.
Applicants will access the New York State Department of Health website or VitalChek Network, Inc. to order online. This information will be available on their website on January 15th.
For Expedited order placement and processing:

visit www.VitalChek.com or call VitalChek Network, Inc. at 877-456-7747
To order via mail, complete the application available online at https://www.health.ny.gov/vital_records/

Mail completed and signed application, identification and a check or money order for $45 per copy

Send by first class mail, registered mail, certified mail or U.S. Priority Mail to:
New York State Department of Health
BVR PAC Unit
PO Box 2602
Albany, NY 12220-2602
For assistance, please contact the New York State Department of Health, Bureau of Vital Records at 1-855-322-1022.
How long will it take?
Certified copies of birth and death records are processed while you wait and with few exceptions, take a matter of minutes. During peak business hours applicants may incur a longer waiting period. Genealogy requests may take four (4) to six (6) weeks to process.

 
Payment of Fees
Monroe County charges $30 per certified record. You may pay with cash, check, money order or credit card. Checks and money orders must be made payable to Monroe County Vital Records.

 
Identification Requirements
Applications made at the Vital Records Office must be accompanied by one (1) of the following:
Driver's license
State issued non-driver photo-ID card
Passport
U.S. Military issued photo-ID
If any of the above documents are not available, two (2) of the following showing the applicants name and address must be provided:
Utility or telephone bills
Letter from a government agency dated within the last six (6) months
~ Failure to provide necessary identification will result in the rejection of your application. ~

Record Availability and Eligibility Requirements
Certified Copies of Birth and Death Records
For important information about what records are available and who is eligible to receive copies of records, visit the following:
Genealogy Records
Information about the types of records available, limitations on availability, and an application form:
Genealogy copies are not available for same day pick up at the Vital Records Office. However, we can accept your payment and application at the counter. Your record will be mailed to you when the research has been completed.
 
Third Party Pick Up
We discourage third party pickups. If you are unable to come to our office yourself, we recommend that you order your certificate by mail or via the internet or telephone.
If you must have your record picked up by a third party, please follow these steps carefully:
Provide the third party with a signed, dated and notarized letter stating who will be picking up your record, which record they will be picking up, and that you grant them permission to get the record for you.
Send a completed and signed application form with the third party. You may download the appropriate form from the mail order page. Complete, print and sign the application form.
The person picking up your record will be required to provide proof of his or her identity following the same criteria as listed above and will need to co-sign the application form.
Any discrepancies or a failure to fulfill all of the above requirements may cause the Vital Records office to be unable to issue the record to a third party.
 
Adoption Information

print this page   

email this page   

back to top
Accessibility and Standards · Disclaimer and Privacy Policy · Non-Discrimination Policy
Official Site of Monroe County, New York. Copyright © 2019 Monroe County. All Rights Reserved.
Comments or suggestions? Please Contact Us