Winterfest 2023: Coming Soon!
Last Year's Information:
Sunday, January 9th 2022 - 11 a.m. to 3 p.m.
Winterfest is back! We're excited to bring back this beloved community event. Bring the whole family and come on out to Mendon Ponds Park for a FREE, fun-filled, action-packed day, brought to you by County Executive Adam J. Bello, and the Monroe County Department of Parks!
The event is spread throughout the park, including the Nature Center area, East & West Lodges, Evergreen Shelter, Hopkins Point Lodge, on the trails, and on the sledding hills!
Event runs from 11:00 am till 3:00 pm.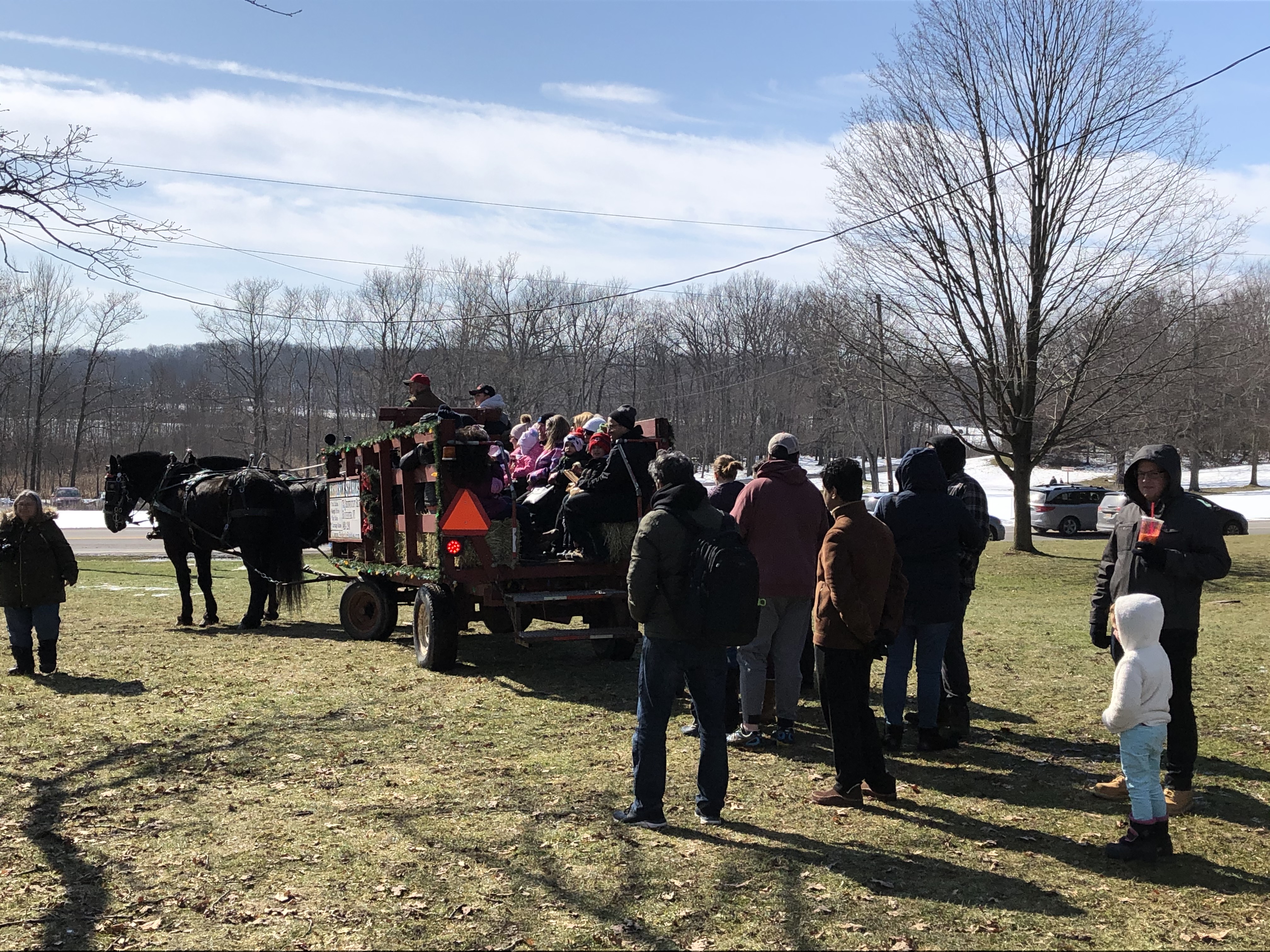 Families enjoying hayrides provided by Heberle Stables at Winterfest in January 2020.
Activities include*:
Arts & Crafts, Kids Activities
Sledding- in designated areas, near East Lodge and Stewart Lodge, only.
Demos and Try-it opportunities at many booths/stations.
Hikes and Learning Opportunities
Organizations setting up a booth/station include:
Nature Center Area (including Wild Wings, Inc. and Sheriff's Horse Barn)
Monroe County Sheriff: Mounted Patrol (DEPENDENT ON SERVICE CALLS)
Monroe County Sheriff: Snowmobile Unit (DEPENDENT ON SERVICE CALLS)
Monroe County Forestry: Chain Saw Demo
Genesee Valley Audubon Society (GVAS): Chickadee Feeding & Nature Hikes on Birdsong Trail, and Bird ID
Wild Wings, Inc.: Birds of Prey Educational Demos & Programs
East Lodge
GeoROC, Geocachers of the Rochester Area: Info display and props providing overview of Geocaching. Live demos/Try-it & Q&A
Sledding: next to East Lodge
Monroe County Department of Environmental Services: Recycling Education
West Lodge
Hay Rides courtesy of Heberle Stables (11:00-2:00pm only)
Seneca Park Zoo: Zoo Mobile (12:00pm-2:00pm only)
Pittsford Mendon & Sutherland HS Interact Club: Games, Face Painting, Ballon Animals
​Stewart Lodge Area
Mercy Flight, Information table and helicopter landing (landing at 1pm) (DEPENDENT ON SERVICE CALLS AND WEATHER)

Green Spark Solar Energy: A local, employee-owned B Corp providing information about powering your home with clean, local solar energy.

GROC: Genesee Regional Off-road Cyclist information table

Cornell Cooperative Extention: Information table and Demos

Sledding

Cornell

Cooperative – Program info and Outdoor experiences

Rochester Ecology Partners – Adaptive Species Scavenger Hunt

Chefs Food Truck

501st – Costumed Appearance of Star Wars Characters and Photo Ops

MC planning Board - A Year in Review

County Executive Bello - (Speach 12:45)
Evergreen Shelter
North Meadow Trail
Open Cross-Country Skiing on Groomed Trails (Weather Dependant)
*Activities Subject to change
Important Information
Parking- at each shelter, lodge, or parking lot. East and West Lodge closed for ahy rides to turn around and load in, as well as Stewart lots closed for display purposes.
Bathrooms- there are flush toilet facilities, portapotties, and pit toilets conveniently distributed throughout the park.
Staying Warm- each lodge has a warming fire.
Covid-19 subjects all things to change, the Monroe County Parks Department will require all those attending to wear a mask while inside facilities for the safety of all those attending the event