Divorce Records
New COVID-19 Procedures
In order to maintain healthy practices to protect staff and customers, new procedures have been created. Please enter room 105 of this office you will be required to wear a mask, and wait in the designated area for service.
---
Divorce Files
Divorce files are sealed documents and are only available to the plaintiff, defendant or attorneys of record. Identification is required to view a divorce file. You may review a divorce file that you are not a party to by obtaining a court order. To obtain a copy of your divorce decree, you should contact Customer Service at 585-753-1600 or at 39 West Main Street, Room 105, Rochester, NY 14614. Hours of operation are Monday through Friday from 9 am to 5 pm. 
For family court judgments, consult with that court for relevant information. Family Court can be reached at 585-371-3544.
Marriage Licenses
The Monroe County Clerk's Office does not issue marriage licenses and does not keep copies of marriage licenses.
Marriage licenses are issued by city and town clerks. Copies of marriage licenses may be obtained from the office of the clerk who originally issued the marriage license.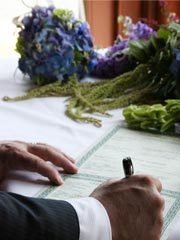 City of Rochester: 585-428-6617
Brighton: 585-784-5240
Chili: 585-889-6127
Clarkson: 585-637-1130
East Rochester: 585-586-3553
Gates: 585-247-6100
Greece: 585-723-2364
Hamlin: 585-964-2421
Henrietta: 585-359-7035
Irondequoit: 585-336-6045
Mendon: 585-624-6060
Ogden: 585-617-6111
Parma: 585-392-9461
Penfield: 585-340-8628
Perinton: 585-223-0770
Pittsford: 585-248-6211
Riga: 585-293-3880 Ext. 122
Rush: 585-533-1312
Sweden: 585-637-2144
Webster: 585-872-7055
Wheatland: 585-889-1553

print this page   

email this page   

back to top
Accessibility and Standards · Disclaimer and Privacy Policy · Non-Discrimination Policy
Official Site of Monroe County, New York. Copyright © 2019 Monroe County. All Rights Reserved.
Comments or suggestions? Please e-mail the MonroeCounty.gov webmaster.