November 10th, 2020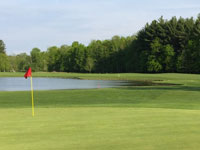 In honor of Veterans Day, Monroe County Executive Adam Bello has announced that Monroe County will be extending free greens fees and cart rentals at Churchville, Durand Eastman and Genesee Valley golf courses for all veterans and active duty military members.
"Monroe County is fortunate to be home to many veterans and active duty service members, all of whom have sacrificed so much for our community and our nation. Whether they served during wartime or peacetime, at home or abroad, our veterans and active military have always answered the call and protected our freedoms and liberties when threatened," said County Executive Bello.
This offer is valid for Wednesday, November 11, 2020 only, and applies to 9 or 18 hole golfers. Those interested should first call the golf course pro shop to check availability and tee times, and must show an active or veteran military ID upon check-in.
Churchville Golf Course Pro Shop: (585) 293-0680
Durand Eastman Golf Course Pro Shop: (585) 266-0110
Genesee Valley Golf Course Pro Shop: (585) 424-2920
"Our County Parks Department staff has done an incredible job maintaining our golf courses all season long. We've been able to extend the golf season thanks to mild fall weather and are excited to be able to offer this opportunity for our veterans and active military members as we recognize their service to our country," concluded Bello.