November 10th, 2021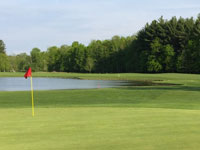 In honor of Veterans Day, Monroe County will extend free greens fees and cart rentals to all veterans and active duty military members on November 10, 11 and 12 at Churchville, Durand Eastman and Genesee Valley golf courses, County Executive Adam Bello announced today.
"This promotion is just one way Monroe County recognizes its veterans and active duty military for their sacrifices," said Monroe County Executive Adam Bello. "The members of the armed forces, past and present, deserve our unwavering support, not just during Veterans Day, but year-round."
The offer applies to rounds of 9 or 18 holes. Those interested should first call the golf course pro shop to check availability, tee times and whether golf carts are allowed due to course conditions. Participants must show an active or veteran military ID upon check-in.
Churchville Golf Course Pro Shop: (585) 293-0680

Durand Eastman Golf Course Pro Shop: (585) 266-0110

Genesee Valley Golf Course Pro Shop: (585) 424-2920
Friday, November 12, 2021 will be the last day of the season for all golfers at all county- owned courses.