March 21st, 2022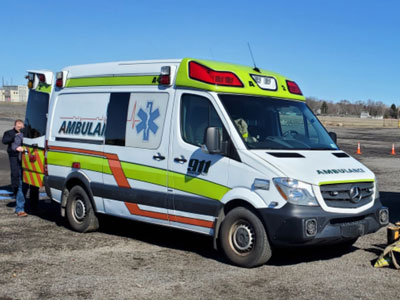 After an unprecedented community collaboration to provide relief to Ukraine, Monroe County Executive Adam Bello today announced additional support, as Finger Lakes EMS donated two of its ambulances to the effort. Local EMS agencies have now donated a total of five ambulances to assist in life-saving rescue operations in Ukraine.
"As Ukraine fights against a heinous, unprovoked Russian assault, Monroe County is working with our Ukrainian-American residents to send supplies and emergency response gear to aid in the war effort," said County Executive Bello. "The donations from our local ambulance agencies, fire departments and neighbors exemplify what Monroe County is all about – helping those in need. Thank you to Finger Lakes EMS and all those who are helping Ukraine during this especially tough time."
Earlier this month, County Executive Bello convened local fire departments, ambulance agencies, and the community to gather donations for Ukraine's war effort. In the last week, Monroe County residents filled more than 50 bins of donations at DMV offices. Additionally, more than 150 firefighter turnout kits have been donated from local fire departments.
"The Ukrainian-American residents of Monroe County are incredibly grateful for the community's support for our loved ones suffering an unprovoked attack at the hands of the Russians," said Roman Kshysyak, President of the Ukrainian Cultural Center of Rochester. "Thank you to Finger Lakes EMS, all our first responders, Monroe County, and our neighbors, for all you've donated to this fight."