July 7th, 2022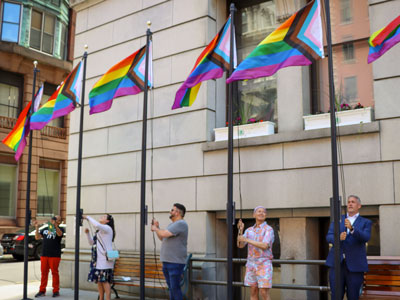 Monroe County sponsors Pride celebrations for the first time
Monroe County Executive Adam Bello was joined by Assemblymember Harry Bronson and members of local LGBTQI+ organizations to raise Pride Progress flags outside of the County Office Building to honor Pride Month in Monroe County. The County Executive also announced several county sponsored pride events happening this month.
"For decades, our LGBTQI+ communities fought for their right to be heard, acknowledged and accepted for who they are. This pride month, we celebrate their courage in the fight for their civil rights and their innumerable contributions to our community," said County Executive Bello. "To reinforce our commitment to celebrating the 50 year history of Pride in Rochester, Monroe County employees from several departments formed a Pride Committee to ensure the county's presence and support at Pride events."
For the first time, Monroe County invited the community to the County Office Building and hosted a Pride Flag ceremony and will help sponsor a series of Pride events countywide presented by Trillium Health and the ROC Pride Collective throughout the month of July:
Noon to 6 p.m. July 10 – Monroe County's 50th annual Pride Picnic at Genesee Valley Park • 1 p.m. July 16 – ESL Federal Credit Union ROC Pride Parade on Park Avenue
1 to 8 p.m. July 16 – ESL Federal Credit Union ROC Pride Fest at Cobbs Hill Park
The Pride Progress Flag raising included New York State Assemblymember Harry Bronson, ROC Pride Collective, Rochester LGBTQI+ Together, and Rochester Black Pride, as well as the Rochester Pride Honorary Marshal, Carolyn Zook and Grand Marshal for this year's parade, Michael Gamilla. The Pride Progress Flag, designed in 2018, displays the six traditional rainbow colors to represent lesbian, gay, and bisexual communities as well as pink, light blue and white to represent transgender communities and black and brown stripes to represent marginalized LGBTQI+ communities of color.
"Thank you County Executive Bello for continuing to honor our community with this flag raising. Our flag is multi-colored representing all in our community," said New York State Assemblymember Harry Bronson. "It is not a white flag of surrender, nor a confederate flag of hate. We stand powerful and proud. That is who we are – a strong loving committed family. The Bello administration knows this and I'm proud to call them allies in our fight. Happy Pride!" ROC Pride Collective Co-Chairs Susanna Speed and Sam Brett said: "The ROC Pride Collective is proud to bring back the Rochester Pride Parade after a two year absence. We are grateful to Monroe County Executive Adam Bello for the county's participation and support for this community wide celebration."
County Executive Bello, Monroe County's Pride Committee and the Monroe County Clerk Jamie Romeo's office will host the display of several panels from the "Forging Alliances: Rochester's LGBT Story" project throughout county-run facilities. The panels were originally written and displayed by the Out Alliance and detail decades of struggle and progress as Rochester's and the nation's LGBTQI+ community sought acceptance and recognition of their civil rights.
Monroe County Clerk Jamie Romeo said: "Pride Month is a special time in Monroe County to celebrate the stories of strength and resilience from the local LGBTQ+ community. The County Clerk's Office is incredibly proud to announce Pride displays at local DMVs that will showcase these stories for our entire community to enjoy and learn from."
The panels will be displayed at the locations below:
Monroe County Office Building, 39 West Main Street, Rochester

City Place, 30 Fitzhugh Street, Rochester

Robach Community Center, 180 Beach Avenue, Rochester

Rochester Public Library, 115 South Avenue, Rochester

Frederick Douglass Greater Rochester International Airport, 1200 Brooks Avenue, Gates

Henrietta DMV Office, 1225 Jefferson Road, Henrietta

Greece DMV Office, 152 Greece Ridge Center Drive, Greece
All of the displayed panels can be viewed on the Monroe County website, monroecounty.gov/pride2022, which features a full list of Pride events happening throughout the county.
In June, Monroe County presented a proclamation and celebrated local LGBTQI+ activist, educator and historian Evelyn Bailey. While June is recognized nationally as Pride Month, Monroe County's LGBTQI+ community has traditionally celebrated Pride in July.
Throughout the month, the Frederick Douglass Greater Rochester International Airport and the Central Library of Rochester and Monroe County will be lit in rainbow colors for the occasion.