May 5th, 2023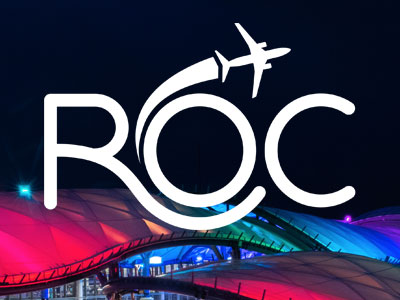 Spirit continues to grow in Monroe County, providing the first nonstop from ROC to MYR
Spanish Language Version (PDF)
Nonstop flights to the beaches of Myrtle Beach have officially arrived at the Frederick Douglass Greater Rochester International Airport (ROC). Monroe County Executive Adam Bello and Spirit Airlines today celebrated ROC's newest nonstop service route to Myrtle Beach International Airport.
"Whether you're planning the ultimate summer beach vacation for your family or a golf getaway at the more than 100 courses in the 'Golf Capital of the World', Spirit's new nonstop service will improve accessibility to Myrtle Beach and the South Carolina coastline," said Monroe County Executive Adam Bello. "We're grateful for Spirit's continued growth and investment in the Rochester market, and want to encourage travelers to consider all of the nonstop service the ROC Airport has to offer."
Spirit Airlines, ROC's newest airline, began service on October 19, 2022 with daily nonstop flights to Orlando International Airport (MCO). Myrtle Beach will be the second nonstop location served by Spirit Airlines, bringing greater accessibility and convenience to this popular vacation destination for Rochester passengers.
"It's an exciting time to grow our service in Rochester as Guests are looking for great leisure destinations to explore this summer, like the beaches and golf courses in South Carolina, or the unique culinary, shopping, and festivals of Rochester," said John Kirby, Vice President of Network Planning at Spirit Airlines. "Introducing the only nonstop flight to Myrtle Beach is part of our commitment to give Guests More Go to incredible vacations."
Flight schedule
Start Date

Weekly Frequency

Departure Airport

Arrival Airport

May 5, 2023

4x weekly
On Mon, Weds, Fri, Sat

ROC

MYR

May 5, 2023

4x weekly
On Mon, Weds, Fri, Sat

MYR

ROC
Passengers can book flights today online at www.spirit.com. Dates, times and prices of flights may change. Strong demand for these nonstop flights demonstrates that our community can support additional nonstop service in the future. For more information on Spirit Airlines' nonstop service to Myrtle Beach, and other nonstop service out of the Frederick Douglass Greater Rochester International Airport, visit www.rocairport.com.