September 13th, 2023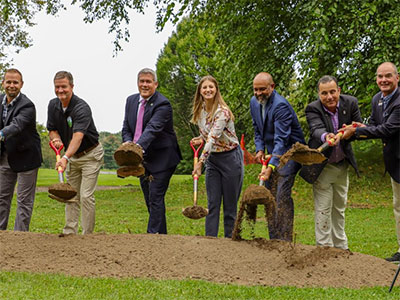 Monroe County Executive Adam Bello today was joined by Tori Schiro, Executive Director/CEO of WNYPGA and Kennie Sims, of PGA REACH, the charitable foundation of the PGA, to break ground on a new 14,000-square foot, fully synthetic turf "pitch and putt" area designed to make the game of golf more accessible to underserved communities. The $500,000 project funding includes a $250,000 donation from PGA REACH that was matched by Monroe County. WNYPGA operates the PGA REACH program in Western New York and Northwest Pennslyvania.
"Genesee Valley Golf Course is one of the oldest municipal golf courses in America and serves a diverse population in the heart of the City of Rochester. The new pitch & putt area will provide a world class facility for everyone to work on their short game," said County Executive Bello. "Thank you to PGA REACH for helping us make golf more accessible to all communities and continue to grow the game golf for the next generation."
The new pitch & putt area at Genesee Valley Golf Course aligns perfectly with the county's ongoing investment in improvements at each of the county's four golf courses. In the past two years, Monroe County has invested roughly $3 million in improvements and upgrades to the golf courses.
"PGA REACH is proud to partner with Monroe County in elevating the historic Genesee Valley Golf Course, helping it become even more accessible to all," said Kennie Simms, PGA, Senior Director PGA REACH - Impact. "The groundbreaking of the new short game area is an exciting step forward in providing community access to this game we love, ensuring golfers of all backgrounds will have a place to play for generations to come."
WNYPGA's investment into Genesee Valley Golf Course is part of their Places To Play program, which revitalizes and ensures the growth of golf facilities in underserved communities. In addition to the course improvements, WNYPGA will partner with Monroe County for programming at the site. This includes growth of game programs such as PGA HOPE (Helping our Patriots Everywhere), PGA Junior League, Chip and Putt and more.
The new pitch & putt area will be located near the current chipping and putting practice area, which will remain in use. The new area will feature synthetic turf and will be completed for use in the spring.
Both the new and the existing practice areas will be utilized by the park staff for instruction as well as by the First-Tee program. First-Tee is a partner agency dedicated to creating access to the game of golf in underrepresented and underserviced communities.
Genesee Valley Golf Course consists of two 18-hole courses within the City of Rochester. The course serves players of all backgrounds and skill levels. More than 60,000 rounds of golf are played there annually.
The north course was built in 1899 and is one of the longest running public golf courses in America. It was the home course for PGA legend Calvin Peete. With 12 PGA tournament wins, Peete was considered the most successful African American golfer prior to Tiger Woods
About PGA REACH
PGA Foundation, Inc. d/b/a PGA REACH is the 501(c)(3) charitable foundation of the PGA of America. The mission of PGA REACH is to Impact Lives Through Golf. For more information, visit PGAREACH.org, follow @PGAREACH on Twitter and Instagram, and find us on Facebook.