Welcome to the Community Opportunities Portal. Here you'll find ways to get involved in this collaborative initiative to improve our community!
The purpose of the Community Integration Initiative (CII) is to reimagine a new human services system in collaboration with those who use county services and those who deliver them, building on the work DHS and community providers already do to combat poverty and inequities.
The catalyst of this multi-year initiative led by the county and DHS is the RASE Commission Report. TogetherNow will assist with facilitation.
Open Opportunities
---
If you're looking for ways to get involved with this project, please join our distribution list! It's the best way to stay up-to-date on new opportunities.
Prototyping Summit - March 10th!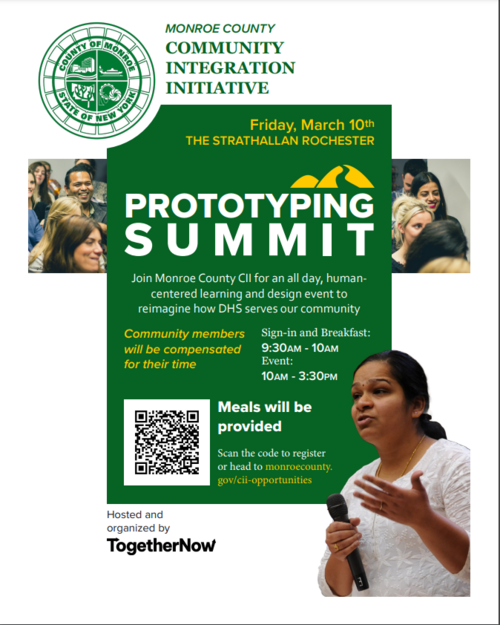 To Register, click here: Register for the MC-CII Prototyping Summit


On March 10th, join us for an all-day learning and designing workshop! Spaces are limited, first come first serve. Registration will open the week of 2/20, right on this website. If you've participated in previous opportunities with us, you'll receive this information via email as well. For questions, reach out to us at [email protected]
Share your thoughts
As a community-focused project, we are always open to hearing from you on this initiative.
Brainstorming Sessions
We'll be offering virtual brainstorming sessions in January to review the data we collected over 2022 through interviewing and surveying DHS staff, providers, and community members on their experiences receiving/delivering services, barriers being experienced, and ideas/opportunities for the future.
These sessions will be facilitated, interactive zoom sessions. If you're interested in participating, you can sign up for any of the sessions below. Please keep in mind you only need to sign up for one session!
Provider Focus Groups
The CII team offered provider focus groups through September and October. These 1-2 hour sessions were meant to hear feedback from providers on their experiences working with DHS, delivering services in this community, and ideas for changes that could be made to improve service delivery.
Virtual Sessions: Held through September and October
Location: Zoom
In-person Sessions: Held through September and October
Location: United Way, 75 College Ave.
---