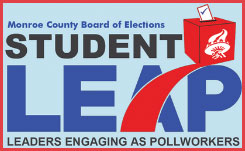 Is this a paid position?
Yes! Students make over $250 each election day.
Can I add this experience to a resume?
Yes! Colleges and employers look for individuals that are civically engaged.
Is this considered a legal absence from school?
Yes! When you turn in a parent/guardian consent form, you get a legal absence from school each election day you work.
How do I become a Poll Worker?
Sign up for a paid in-person or online training, and then sign up to work!
What would I do as a Poll Worker?
Poll Workers are responsible for signing residents into their voting site, ensuring that they receive the correct ballot, and successfully cast their ballot.
Must be registered or preregistered to vote in Monroe County: Last day to register (postmarked or in person) is October 28th, the last day that registration forms can be received is October 28th
Attend one annual paid training either in-person or online
Poll Workers cannot be a candidate or the parent, spouse, or child of a candidate on the ballot within their respective districts
Have a working phone and email address and be available for communication with the Training Team
Email: [email protected]
Phone: (585) 445-4472
General Election: November 7th