May 25th, 2021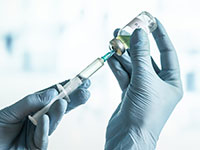 The Monroe County-operated Rochester Riverside Convention Center COVID-19 vaccine POD will be administering the Johnson & Johnson vaccine on Wednesday, May 25 and Thursday, May 26. The single-dose Johnson & Johnson vaccine is approved for anyone 18 years of age and older.
Hours of operation are Wednesday from 9 a.m. – 2 p.m. and Thursday from 11:30 a.m. – 3 p.m. The COVID-19 vaccine is FREE to anyone, regardless of health insurance or coverage. The Rochester Riverside Convention Center POD offers appointments online at /health-covid19-vaccine or by calling 753-5555. The clinic also accepts Walk-ins.
"The Johnson & Johnson single-dose vaccine has become increasingly popular among recently vaccinated populations of our community. It inherently offers a more convenient and streamlined inoculation process that it does not require a second visit to a clinic. I want to encourage any Monroe County resident who wants the J&J vaccine to utilize the Rochester Riverside Convention Center POD this week," Bello said.
For updated information about Monroe County Department of Public Health vaccination efforts, please visit https://www.monroecounty.gov/health-covid19-vaccine. For more information on additional vaccination opportunities in the Finger Lakes Region, visit the appointment finder on the Finger Lakes Region Vaccination Hub website at https://flvaccinehub.com/getting-your-vaccine/.