July 8th, 2021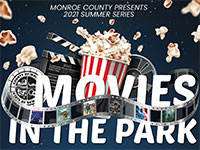 Monroe County Executive Adam Bello has announced that tonight's Movies in the Parks at Ontario Beach Park has been postponed due to pending poor weather. The scheduled showing of Moana has been rescheduled for Thursday, September 2.
The remaining schedule for Movies in the Parks is listed below. Included are the two dates for Movies in the Ballpark, a variation of Movies in the Parks that will take place at Frontier Field.
Thursday, July 15 at Frontier Field
Thursday, July 22 at Frontier Field

Showing: A League of Their Own


Thursday, July 29 at Webster Park – Webster Playground area
Thursday, August 5 at Genesee Valley Park – Round House shelter area
Thursday, August 19 at Black Creek Park – Woodside Lodge area

Showing: Star Wars: The Rise of Skywalker


Thursday, August 26 at Greece Canal Park – Thomas Grasso Lodge

Showing: Raya and the Last Dragon


Thursday, September 2 at Ontario Beach – Grand Stand Area
The Monroe County Parks system was showcased throughout the COVID-19 pandemic. Park attendance was higher than ever, with people exploring the outdoors – from fishing and boating, to hiking trails, golfing and bird watching. Movies in the Park will provide Monroe County residents with another family-fun opportunity to enjoy our County parks.