October 26th, 2021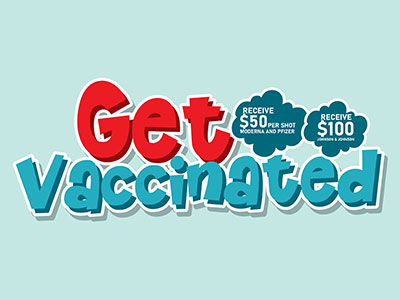 Vaccine Info / Appointment Page
(Rochester, New York) — Monroe County Executive Adam Bello announced the County is offering a $100 incentive to those receiving a full COVID-19 vaccination series in clinics within areas of lower vaccination rates. Gift cards in increments of $50 and $100 are distributed onsite at the time of the vaccination.
For Pfizer and Moderna vaccines, those receiving their first dose will get a $50 gift card and receive another $50 card for their second dose. Those receiving the single dose Johnson & Johnson vaccine receive a $100 gift card.
"We are close to a tipping point to turn the corner on this pandemic if we can get more of our residents protected with the safe and effective COVID-19 vaccine," said Monroe County Executive Adam Bello. "Monroe County has delivered a half a million doses of COVID-19 vaccine and more than 80% of our adult population are vaccinated. The $100 gift cards are both an incentive and a thank you for doing the right thing by protecting friends and family from further spread of this virus."
To locate a clinic participating in the incentive program and to make an appointment, visit the Finger Lakes Vaccine Hub at VaccineHub.org, or by calling 211. The incentive offer runs from Saturday, October 23 to Tuesday, November 23, or until funds are exhausted.
The funding for the incentives come from the County's allocation from the Coronavirus Aid, Relief, and Economic Security Act or CARES Act.
—30—
Media inquiries:
Gary Walker, Director of Communications
(585) 753-1080
Meaghan McDermott, Deputy Director of Communications
(585) 469-4365