Joint Statement From County Executive Adam Bello and Commissioner of Public Health Dr. Michael Mendoza Regarding NY State's Mask Mandate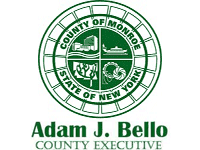 Governor Hochul's announcement today is in line with the State of Emergency in effect here in Monroe County and reinforces what we've been urging residents to do as we've seen our hospitalization numbers increase – wear a mask when in indoor public spaces and get vaccinated.
My office has been in contact with leaders in the business community, and we are prepared to provide any necessary support once we see the full details of these new measures. In the interim, we encourage residents to take advantage of the free rapid test kits that Monroe County is making available to ensure we are gathering safely this holiday season. Residents can contact their local municipality for additional details regarding distribution events.

print this page   

email this page   

back to top
Accessibility and Standards · Disclaimer and Privacy Policy · Non-Discrimination Policy
Official Site of Monroe County, New York. Copyright © 2019 Monroe County. All Rights Reserved.
Comments or suggestions? Please Contact Us