January 14th, 2022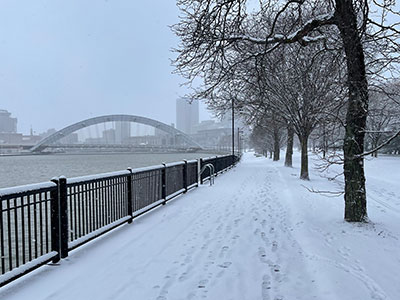 The National Weather Service forecasts frigid temperatures and potential for heavy snow
Monroe County Executive Adam Bello today asked residents to prepare for potentially severe weather over the next 72 hours.
The National Weather Service (NWS) predicts single-digit temperatures through Sunday morning ahead of a potential blast of snow expected Sunday night into Monday. A winter storm watch is in effect, with nine or more inches of snow expected.
"I urge residents to travel with caution and prepare accordingly for the extreme cold and heavy snowfall forecast for our region," said Monroe County Executive Adam Bello. "Our Office of Emergency Management will monitor the changing weather and road conditions throughout the storm. Monroe County stands ready to assist our residents, as well as our local and state government partners in responding to this storm."
Earlier this week, County Executive Bello reminded residents that 'Code Blue' is in effect to help individuals in need of shelter during extreme winter weather.