January 17th, 2022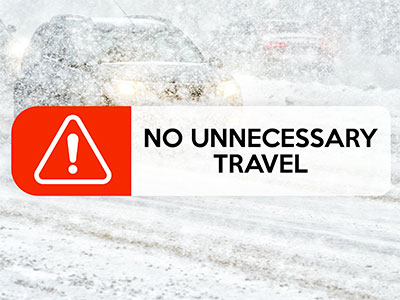 the travel advisory put in place due to extreme winter weather has been lifted. Our area remains under a winter weather advisory.
Monroe County Executive Adam Bello today asked residents to limit motor vehicle travel unless necessary and urgent. Heavy snow and high winds are creating hazardous road conditions with whiteouts and poor visibility.
The advisory remains in effect until further notice.
"Road crews from Monroe County, City of Rochester, towns and villages along with New York State are working now to keep roads open for emergency vehicles and travel that is necessary and urgent," said Monroe County Executive Adam Bello. "Our Office of Emergency Management will monitor the changing weather and road conditions throughout the storm. If you do not need to travel, please stay home so our local and state government partners can safely and efficiently respond to this storm."
Earlier this week, County Executive Bello reminded residents that 'Code Blue' is in effect to help individuals in need of shelter during extreme winter weather.