May 27th, 2022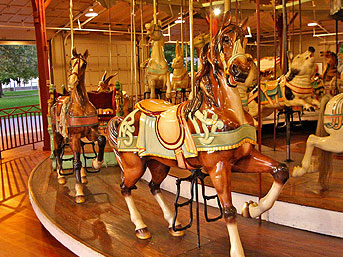 116th season kicks off Friday with FREE rides through Memorial Day
County Executive Adam Bello today opened the historic Dentzel Menagerie Carousel at Ontario Beach Park in Charlotte for the 2022 summer season and invites all Monroe County children and families to enjoy free carousel rides through Memorial Day. This year will be the carousel's 116th season at the park.
As part of the County Executive's $10 million in added investment in the county park system, the carousel will see a $500,000 renovation.
"This carousel is not just a part of our history – we must ensure it's a part of our future. While the carousel is ready to go this summer, we need to ensure that this historic gem is ready to serve the next generations of residents," said County Executive Bello. "The increased investment in our parks will include a spray park and a synthetic ice rink here at Ontario Beach Park."
Improvements to the carousel include cosmetic upgrades, fencing, guardrails and handrails, and restoring flooring. Additionally, while the last renovation of the carousel in 1984 included ADA accessibility, enhancements will include additional handicap accessibility upgrades.
The carousel was carved and created by the firm of G.A. Dentzel in Philadelphia, Pennsylvania. It was installed at Ontario Beach Park in 1905 and has remained in its original location since.
The Carousel's 2022 Operating Schedule is, as follows:
Memorial Day Weekend – Open Friday, May 27 through Memorial Day (FREE rides)
Post-Memorial Day until June 26 – Open Weekends (Saturday and Sunday) June 27 through Labor Day – Open Daily (7-Days per Week)
The Carousel's 2022 Hours of Operation are noon - 7:00 p.m. (Opening Day through Labor Day, September 6th).
The Carousel's 2022 Price Schedule is, as follows:
Single Ride - $1.00
Punch Card (12 rides for the cost of 10) - $10.00 **Valid Any Time** Wrist Band (Ride All Day) – $5.00
All rides FREE Friday May 27th – Monday May 30th