June 24th, 2022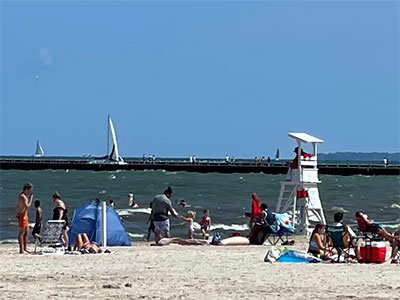 Monroe County Executive Adam Bello today announced that public swimming at Ontario Beach Park is now open for the 2022 season.
"Summer is officially back at Monroe County with the opening of public swimming at Ontario Beach Park," said County Executive Bello. "We ask that everyone stay safe while swimming and come cool off on those hot summer days at the beach with the whole family."
Monroe County lifeguards are on duty and swimming is allowed from 11 a.m. to 7 p.m. seven days a week through Labor Day. Swimming is prohibited when lifeguards are not on duty.
Free swim lessons for ages 5 and up are offered from 10 to 10:45 a.m. every Wednesday. For water conditions, and to ensure swimming is open, call (585) 753-5887.
The playground, restroom facilities and changing rooms are open to the public.
Ontario Beach Park is located on the shore of Lake Ontario in the northernmost section of the City of Rochester near the Irondequoit border. The park is open daily from 7 a.m. to 11 p.m. Glass, pets and amplified music are not allowed.