July 18th, 2022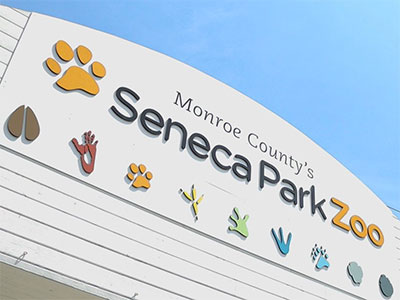 Military discount starts Monday, July 18
Monroe County Executive Adam Bello today signed legislation to reduce admission costs at the Seneca Park Zoo for military members. Starting today, Monday, July 18, military members will only pay $5 for admission and an additional $5 per guest for up to four guests.
"The sacrifices our military makes for our freedoms can never be fully repaid, but we can show our appreciation with more than words. This discount makes a day at the Seneca Park Zoo more affordable for our veterans and their families," said County Executive Bello. "Thank you to the Monroe County legislature for passing this legislation and their support for our veterans."
Both active duty service members and veterans are eligible for the discount.
"Our service men and women know how precious every moment with their family is. This discount for all our military members ensures more opportunities for them to enjoy our zoo with the ones they love," said Laura Stradley, Executive Director of the Veterans Outreach Center. "Thank you County Executive Adam Bello and Monroe County Legislators for making our active duty military members and veterans feel valued and appreciated with this affordable cost to the Seneca Park Zoo."
"The $5 discounted admission for our veterans is another step to ensure the Seneca Park Zoo is accessible and serving everyone in our community. We are proud to support Monroe County's passing of this legislation," said Pamela Reed Sanchez, CEO and President of the Seneca Park Zoo Society.
To access these benefits at the Seneca Park Zoo, each eligible person must show military ID at the admission office for $5 admission. Acceptable IDs include a copy of their DD214, a Veteran ID card or a Monroe County Veterans ID card. Each eligible person can also pay for up to four guests for the same price, for a total of $25.
Zoo admission is from April 1 through October 31 is $12 for adults age 12-62, $11 for those over 63, and $9 for youth ages 3-to-11.