August 8th, 2022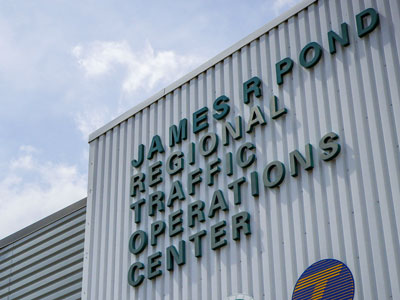 Monroe County Executive Adam J. Bello today renamed the Regional Traffic Operations Center (RTOC), located at 1155 Scottsville Road, Rochester, NY as the James R. Pond Regional Traffic Operations Center in honor of the late Monroe County Director of Transportation, James R. Pond.
Pond served as a member of Monroe County's Department of Transportation (DOT) for nearly 28 years, first as a Senior Traffic Engineer and eventually named Director of Transportation in January 2021 by County Executive Bello.
"Renaming the Regional Traffic Operations Center in honor of Jim is a way to express our gratitude for his decades of fervent service to Monroe County," said Monroe County Executive Adam Bello. "Infrastructure is a key pillar — an area of focus of my administration — to Bring Monroe Back. Jim understood the importance of providing our residents with a transportation system that enhances community growth and quality of life. The James R. Pond Regional Traffic Center will stand to honor Jim's legacy."
The James R. Pond RTOC is a state-of-the-art traffic management center that hosts a wide variety of traffic emergency responders and serves as the primary traffic management center for the Greater Rochester area. Included within the facility are the Monroe County DOT (MCDOT) traffic
signal system and dispatchers, New York State DOT (NYSDOT) dispatchers, traffic signal maintenance shops for MCDOT and NYSDOT, MCDOT's expressway lighting shop, New York State Police Troop E Zone 1 headquarters, and Monroe County Airport operations.
More information can be found at: https://www.monroecounty.gov/dot-signalops