November 18th, 2022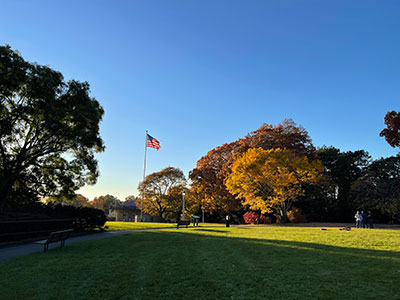 New projects are part of historic $16.6 million investment in the Monroe County Parks system
Monroe County Executive Adam Bello today announced work is beginning on underground electrical improvements and new bathrooms at Highland Park in Rochester.
"The upgrades at Highland Park will save tax dollars and enhance the visitor experience at the park year-round — especially during the popular Lilac Festival," said County Executive Bello. "Thank you to the Monroe County Parks Department and its Director, Pat Meredith, for helping us transform our parks system with once-in-a-generation improvements."
The electrical improvement project will provide direct electrical hookups for vendors during festival season and saves tax dollars by eliminating the need for generators, which require diesel fuel to run, and County employees to install and operate them. This measure will also reduce noise pollution.
The new ADA-compliant bathrooms will be adjacent to the future Children's Pavilion, in a high- traffic area heavily used during festival season. It is anticipated the projects will be complete in Spring 2023.
These improvements are part of Monroe County Executive Adam Bello's historic $16.6 million investment in the Parks system.