February 2nd, 2023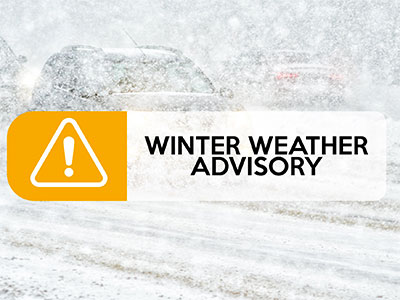 'Code Blue' activates when temperature with wind chill drops to 32°
Spanish Language Version (PDF)
Monroe County Executive Adam Bello is reminding residents to use caution as the National Weather Service forecasts sub-zero wind chills through Saturday morning.
"While extreme cold is nothing new for us, it's always important to take this weather seriously," said County Executive Bello. "The current forecast calls for wind chills as low as 24 degrees below zero. Uncovered skin can suffer frostbite in as little as 30 minutes under these conditions – so please be careful, bundle up when leaving the house, bring your pets inside and check on your vulnerable neighbors."
Under the county's Code Blue protocols — activated whenever temperatures fall to 32 degrees or lower — outreach teams will work with homeless individuals to ensure they have shelter, transportation and meals for the duration of the cold weather event. A 24-hour warming center is available at Open Door Mission, 210 W. Main Street, Rochester.
Individuals seeking shelter during times of extreme cold can contact (585) 753-6044 during business hours and (585) 442-1742 after 5 p.m. and on weekends.
The current wind chill advisory issued from the National Weather Service runs from 4 a.m. Friday through 10 a.m. Saturday.