May 31st, 2023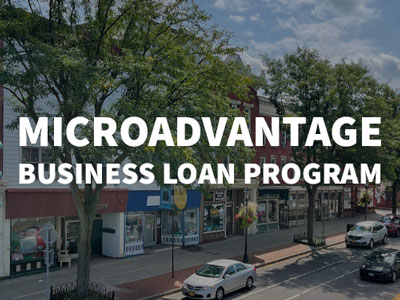 Qualified businesses can receive up to $50,000 to serve as gap financing when other sources of capital are not available
Spanish Language Version (PDF)
Monroe County Executive Adam Bello and Monroe County Industrial Development Corp. (MCIDC) President Hanif Abdul-Wahid today announced the county's new MicroAdvantage Small Business Loan Program. The program, funded with $5.8 million in American Rescue Plan Act (ARPA) dollars and administered by MCIDC, provides qualified small businesses with access to capital loans of up to $50,000 to serve as gap financing when other sources of capital are not available. The program, pending final legislative approval, is part of County Executive Bello's Bring Monroe Back recovery initiative. Through the efforts of Congressman Joseph D. Morelle and Senators Charles Schumer and Kirsten Gillibrand, Monroe County received $144 million in ARPA funding.
"Small businesses are the engine of our local economy and entrepreneurs seeking to achieve the American dream drive our growth," said County Executive Bello. "Economic development is a key priority of my administration. Every fledgling business needs time to find its footing, grow and evolve — particularly traditionally underserved businesses such as Service Disabled Veteran-Owned and Minority and Women-Owned Business Enterprises (MWBE). The MicroAdvantage loan program is designed to empower all business owners and give them the access to capital they need to succeed."
"The MicroAdvantage loan opportunity is going to bring much needed relief for local entrepreneurs struggling to get their businesses off the ground," said Congressman Joe Morelle. "Programs like this—designed to support small businesses and help them grow— are exactly what we envisioned when my colleagues and I allocated this funding in the American Rescue Plan. I'm grateful to County Executive Adam Bello for his foresight and commitment to investing in programs that grow our regional economy and positively impact the future of our community."
U.S. Senator Charles Schumer said, "Small businesses are the lifeblood of Monroe County, which is why programs like this are vital to ensure entrepreneurs have the resources they need to pursue their vision and thrive. As lead negotiator of the American Rescue Plan Act, I was proud to deliver over $144 million to Monroe County to recover from the pandemic, and I applaud County Executive Bello for targeting these funds to the needs of the community, especially to women and minority owned and service disabled veteran owned businesses, and reinvigorating the local economy."
"Small businesses across our state experienced many growing pains and difficult decisions as a result of the COVID-19 pandemic. I'm grateful for the efforts of County Executive Bello and Monroe County Industrial Development Corp. in developing the MicroAdvantage Small Business Loan Program, which will help get area businesses back on level footing and provide another source of capital for underserved veteran-owned businesses and MWBEs," said U.S. Senator Kirsten Gillibrand. "I'm proud to have fought for this funding through the American Rescue Plan and remain committed to ensuring small businesses have the necessary resources to recover and succeed."
"I'm proud to support the MicroAdvantage Small Business Loan Program that will help incentivize and retain small businesses and grow jobs across our entire County. Small businesses are the backbone of our community, and particularly in these difficult economic times, deserve our help more than ever," said Monroe County Legislature Majority Leader Steve Brew. "Small businesses provide important jobs, products, and services to the local economy and, for many, are the culmination of their American Dream. This program will help any and all small businesses with funds to cover payroll, expand or improve equipment and spaces, and many other critical needs they face on their bottom line. I look forward to seeing all the families and their businesses that will benefit from this needed fiscal stimulant."
To qualify for a MicroAdvantage loan, small businesses must be headquartered in Monroe County, have less than $4 million in annual revenue, employ 25 or fewer full-time-equivalent employees (FTE'S) and be able to demonstrate that the funds will be used to respond to the negative impacts of COVID-19. Additional requirements and application materials are available at monroecounty.gov/planning-microloan.
There is a $100 application fee and a $250 commitment fee, which is eligible to be funded with loan proceeds by increasing the loan amount. In addition, the applicant will be responsible for paying direct out of pocket costs of MCIDC in making the loan including, but not limited to, state and federal tax lien searches, corporate searches and UCC filings.
At a minimum, $800,000 of MicroAdvantage funding is earmarked for MWBE's, although the county expects about 30% of all program support will assist MWBE's. Service Disabled Veteran- Owned Businesses and MWBE's will be offered a reduced interest rate, and application fees will be waived.
Businesses that received other COVID-19-related assistance are eligible for the program, However, county, state and federal-level officials and any immediate household members, as well as companies and owners currently delinquent on any state, local or federal taxes are ineligible to apply.
The MicroAdvantage Program is based on recommendations from the Commission on Racial and Structural Equity (RASE), an organization convened in 2020 by the City of Rochester and Monroe County to review local city and county laws, policies and ordinances to identify areas of structural inequity and recommend ways to change those laws/policies to achieve fair application for all citizens. The commission called on the county to "create and invest in sustainable economic opportunities in Black and Latinx communities to promote and sustain self-sufficiency, entrepreneurship and career advancement."