"Common" Schoolhouses
Did you know that you could still see many of the old "common" (or elementary) schools that students attended throughout the county?
The first school, District #1 in Northfield (now Pittsford), which opened in 1794, began decades of rapid growth in the number of schools and students. Most of these schools had one or two classrooms and teachers and served students ranging from kindergarten to adolescence.
Until the creation of the state school fund 1805, the schools were completely funded by parent subscription, based on the number of students per family that attended school. Each "district" (as the area each common school served was called) elected three trustees to administer its schools and the state funds it received. The Central Rural School Act of 1914 provided funds to centralize districts beginning in 1925.
In 1924, just before centralization began, there were 185 districts throughout the county; this had dropped to 161 in 1945, and was down to 44 in 1954. Centralization continued through the 1950s and gradually eliminated the one room schoolhouse from our education system, but not from our landscape.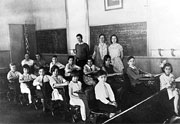 The classroom in Chili #1 looks quite different from today. Visitors can see a real classroom at the Little Red Schoolhouse in Penfield.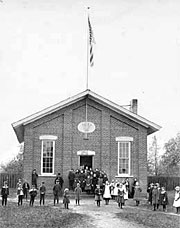 These next two schools, in Parma and Ogden respectively, were both larger and more substantially built with brick.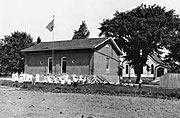 The old Ogden Schoolhouse.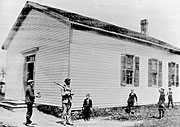 Recess at Chili #11, now the site of the Florence Brasser School, provides a good view of the wide age range served in these schools.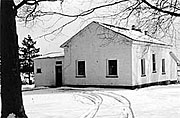 Brighton #3. Like many old schools, this schoolhouse was converted for another use. Many schoolhouses have become private homes.
Hamlin #1 was even more unique. The history center in Hamlin is located in the former North Star school, a more typical design than this.