February 14th, 2021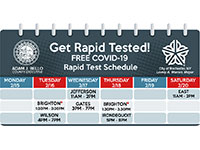 Monroe County Executive Adam Bello today announced that appointments are now available for rapid COVID-19 testing sites for the week of February 14th. As a result of the President's Day holiday, the Wilson Foundation Academy testing dates has been rescheduled to Tuesday, February 16 from 4:00 – 7:00 p.m. Additionally, the town of Gates hours of operation have been changed to 3 p.m. to 7 p.m.
"As we are continuing to witness the slow reopening of our economy, we need to ensure we continue to stop the spread of COVID-19. Our rapid testing measures are crucial to keeping our businesses open, our children in school, and our community safe," said County Executive Bello. "I am so thankful to our municipalities for their partnership in this initiative, and to our community for their continued efforts to protect their friends, family members, and neighbors."
Rapid testing sites are located in the City of Rochester, Irondequoit, Brighton and Gates. Each site offers self-administered COVID-19 rapid tests, provided to the municipalities by Monroe County and New York State.
Monroe County residents who wish to be tested may make an appointment through the county portal at /health-covid-19-testing. Appointments open each Friday at noon for slots the following week. Walk-ins are accepted at all locations except Brighton. A parent or guardian must accompany children under the age of 18.