February 26th, 2021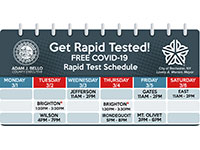 Monroe County Executive Adam Bello and Rochester Mayor Lovely Warren today announced a new partnership with Mt. Olivet Baptist Church to provide additional free COVID-19 rapid testing in the 14608 zip code and the city of Rochester. Mt Olivet, located at 141 Adams St, is an ideal site because of its centralized location within the city, less than 1/2-mile from downtown, and its ability to serve as a drive-up testing location.
"Community testing is a key part of the strategy to help keep our neighborhoods safe and healthy," said Bello. "I thank Rev. Rickey Harvey and the Mt. Olivet Baptist Church community for their generosity in opening their church as a testing site and for recognizing the importance of making sure free rapid testing is easily available to all members of our community."
"Every citizen's health is an important aspect in the overall well-being of our community," said Mayor Warren. "Access to free COVID-19 testing in a safe and reachable location will help keep our residents healthy. I am grateful to Rev. Harvey and the Mt. Olivet Baptist Church for their continued efforts, partnership and service for the benefit of our beloved residents."
Testing sites are located in Brighton, Rochester, Gates, and Irondequoit. Each site offers free COVID-19 rapid tests, provided by Monroe County and New York State.
"Mount Olivet Baptist Church strives on serving its people and the citizens of Rochester with a wholistic approach to wellness both in body and soul. While Saving Souls through preaching and teaching the WORD of God is primary, Saving Lives through hosting Rochester's first Covid-19 Popup Clinic and now hosting a Covid-19 Testing Center is another major focal point for us. We want the virus gone, we want people safe, we want people alive and well, we want to return to in-person worship," said Rev. Dr. Rickey Harvey, Pastor at Mt. Olivet Baptist Church.
Individuals who wish to be tested may make an appointment through the county portal at www.monroecounty.gov/health-covid-19-testing. Appointments open each Friday at noon for slots the following week. Walk-ins are accepted at all locations except Brighton. Children under the age of 18 must be accompanied by a parent/guardian.
For the week of March 1, COVID-19 testing locations and times are:
ROCHESTER

Joseph C. Wilson Foundation Academy, 200 Genesee Street, 14611

4 to 7 p.m. Tuesday, March 2

Jefferson High School. 1 Edgerton Park, 14608

11 a.m. to 2 p.m. Wednesday, March 3

Mt. Olivet Baptist Church, 141 Adams Street, 14608

3 to 6 p.m. Friday, March 5

East High School, 1801 E. Main Street, 14609

11 a.m. to 2 p.m. Saturday, March 6

BRIGHTON (appointment required)

Temple B'rith Kodesh, 2131 Elmwood Ave., 14618

1:30 to 3:30 p.m. Tuesday, March 2 and Thursday, March 4

GATES

Memorial Park, 160 Spencerport Road, 14606

11 a.m. to 2 p.m. Friday, March 5

IRONDEQUOIT

Public Works Building, 2629 E. Ridge Road, 14622

5 to 8 p.m. Thursday, March 4