Monroe County Executive Adam Bello Announces Upcoming Vaccine Clinics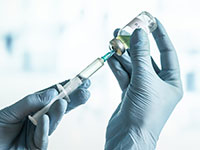 Monroe County Adam Bello announced today the County sponsored community-based COVID-19 vaccine clinics through Oct. 18, 2021. Select Monroe County sponsored clinics will be joining New York State in encouraging school-aged New Yorkers vaccinated in the #VaxToSchool campaign as part of a commitment to prioritize the health and well-being of students, teachers, and families.
Information on walk-in allowance and appointments can be found online at https://www.monroecounty.gov/health-covid19-vaccine.
Monroe County Fleet Center – 145 Paul Road, Rochester, NY 14624
Wednesday-Friday 9 a.m.-12 p.m. and 1-4 p.m.
MCC Downtown Campus - Corner of 321 State St & Morrie Silver Way, Rochester, NY 14608
Monday-Thursday 2-6:30 p.m.
Fridays 2-4:30 p.m.
Wednesday, Oct. 13:
Genesee Community Charter School (657 East Ave, Rochester, NY 14607) 2-5 p.m.

Carter St. R-Center (500 Carter St, Rochester, NY 14621) 1-4 p.m.
Thursday, Oct. 14:
Church of Love (700 Exchange St, Rochester, NY 14608) 11a.m. - 2p.m.

University Prep Charter (1290 Lake Ave, Rochester, NY 14613 4-6 p.m.
Friday Oct. 15:
Lincoln Library Branch (851 Joseph Ave, Rochester, NY 14621) 2-5:30 p.m.
Saturday, Oct.16:
Hispanic Heritage Month -- International Plaza (828 N. Clinton Ave, Rochester, NY 14605) 1-5 p.m.
Sunday, Oct. 17:
Edgerton R Center (41 Backus St, Rochester, NY 14608) 1-4 p.m. Monday, Oct. 18:
Arnett Library Branch (310 Arnett Blvd, Rochester, NY 14619) 12-3 p.m.

print this page   

email this page   

back to top
Accessibility and Standards · Disclaimer and Privacy Policy · Non-Discrimination Policy
Official Site of Monroe County, New York. Copyright © 2019 Monroe County. All Rights Reserved.
Comments or suggestions? Please Contact Us