May 2nd, 2022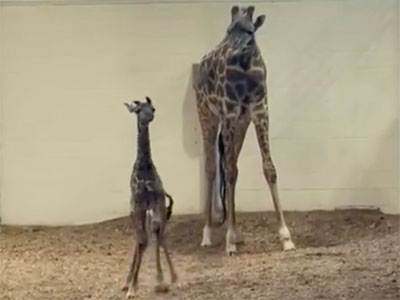 The Masai Giraffe calf born at Seneca Park Zoo on Friday, April 29, 2022, is a male and "doing very well," according to the veterinary staff at the Seneca Park Zoo.
"Thank you to the veterinary staff at the Seneca Park Zoo who are working tireless to ensure the best outcome for Iggy and her calf," said Monroe County Executive Adam Bello. "I have full confidence in our zoo staff as they continue caring for our newest addition to the zoo, and I look forward to seeing the calf interact with other animals in the future."
"The calf is very active, and mom is doing great," said Seneca Park Zoo Superintendent Steve Lacy. "Things are progressing as expected. Mom and baby continue to be monitored and we are cautiously optimistic," Lacy continues.
The Animals of the Savanna building remains closed today but is expected to be back open soon. Zoo Staff will be available for comment later this week.