Park Information
While Black Creek Park is still a relatively undeveloped park, its 1,505-acres has many unique features to offer. The park provides opportunities for hiking, soccer, fishing, horseback riding, sledding, and cross country skiing. It also features a playground located near the Pathfinder Shelter. The park offers five hiking trails, all of which are excellent settings to view nature and animals.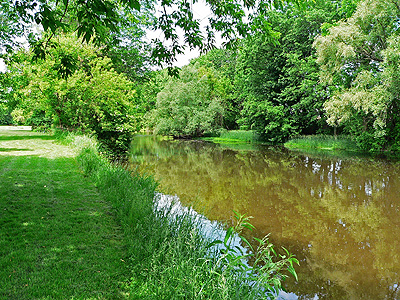 Location and Directions
The park is located at 3835 Union Street, North Chili, New York 14514. The main entrance of this park is located on Union Street in the Town of North Chili.
Common Recreation Activities at Black Creek Park
Biking
Birdwatching
Cross-Country Skiing (non-groomed)
Fishing- Fishing is allowed in Black Creek Park as long as those fishing are following NYS Department of Environmental Conservation guidelines and rules and have the required licenses.
Geo-caching (approximately 24 caches)
Hiking/Running Trails
Horseback Riding
Kayaking/Canoeing
Playground
Sledding (near Woodside Lodge)
Soccer

Access to creek and pond

Bathrooms available for general use
Rules and Regulations
Black Creek Park has a Carry-in Carry-out rule, which means you must take all your garbage with you for disposal after leaving the park. All pets must be leashed and you are responsible for cleaning up after them.
Park Hours
Black Creek Park is open daily 7:00 a.m. until 11:00 p.m. and has a Carry In-Carry Out rule, which means you must take all your garbage with you for disposal after leaving the park. All pets must be leashed and you are responsible for cleaning up after them.
Lodges and Shelters
Black Creek has two enclosed lodges, both hold 99 people and are heated. Inside the lodges there are round folding tables, folding chairs, a fireplace, bathrooms and a full kitchen. Outside each of them there is a large charcoal grill. There is one open-air shelter, which includes picnic tables, a large grill, and a water spigot. The shelter has electricity and the bathrooms are nearby.
For information and reservations please call 585 753-PARK (7275) or go to our Online Lodge & Shelter Reservation System.
Restrooms
There are two restrooms in the park, that are open seasonally, from May 1st to October 31st. One is located near the playground area, which is near Pathfinder Shelter, and the other is near Sunnyside Lodge. Both bathrooms are flush toilets which are handicap accessible. These bathrooms are open to the public for use. See the park map for specific locations.
Trails
Before heading out to Black Creek Park print the map. The color coded hiking trails and additional details will keep you on the right track.
The Ridge Trail is a 1.4 (one-way) mile walk over gently rolling terrain filled with honeysuckle, autumn olive, and many other beautiful shrubs. While on the trail look for the trees from Green's Nursery, which was in existence 100 years ago.
The Creek Trail is a 3.1 (one-way) mile walk that passes alongside a beautiful little pond, which is the seasonal home to many geese and ducks. This trail also takes you through fields of honeysuckle, dogwood and many other types of greenery.
The Hickory Trail is a 1.4 mile walk over flat terrain which is full of multi-flora rose and dogwood shrubs. Many different birds can be seen in this area. The trail ends in Maple and Hickory woods which has an impressive collection of shagbark hickory trees.
The Bluebird Trail is a 1.2 mile walk that winds among honeysuckle, hawthorn and dogwood shrubs. This walk is good for bird watchers all year round.
The Wetland Trail is a 2.1 (one-way) mile walk that is dotted with wild flowers that attract butterflies. This trail also has many unique plants and trees that change with the seasons.
Winter Activities
Black Creek Park has one designated sledding hill that is located behind the Woodside Lodge. This hill is open to the public throughout the winter months if snowy conditions exist. Sledding is done at your own risk.
Playgrounds
Black Creek Park has one playground located between the Woodside lodge and the Pathfinder Shelter. See the park map.
Athletic Fields
Black Creek Park has one large soccer/multi-use athletic field that is available for rent. Click here to request a field reservation online or call 585 753-PARK (7275) for more information.