Adolescent Tobacco Use Prevention Act (ATUPA) & Smoking Code (Clean Indoor Air Act)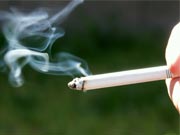 Phone: (585) 753-5209 (ATUPA)
(585) 753-5052 (Smoking Code - Clean Indoor Air Act)
Enforces compliance with:
NYS Public Health Law Article 13-E Regulation of Smoking in Certain Public areas (also known as Clean Indoor Air Act).
Monroe County Sanitary Code Article VI, Regulation of Smoking in Public Places and Work sites.
NYS Public Health Law Article 13-F-Regulation of Tobacco Products and Herbal Cigarettes; Distribution to Minors (also known as Adolescent Tobacco Use Prevention Act (ATUPA).

Investigates complaints regarding smoking in public places and work sites.
Investigates complaints and conducts compliance checks of retail tobacco dealers to reduce the use and accessibility of tobacco to youth under 18 years of age.
Online Information
Retail Tobacco Dealer Compliance Checks (ATUPA)
Monroe County contracts with Local police departments who conduct Retail Tobacco Dealer compliance checks throughout Monroe County using underage youth (16 or 17 years of age) who attempt to purchase tobacco products. If a sale is made the Monroe County Department of Public Health issues an enforcement action against the Retail Tobacco Dealers found in violation of NYS Public Health Law Article 13-F (Adolescent Tobacco Use Prevention Act) for the sale of tobacco or herbal cigarettes to an underage youth (persons under age 18 years of age) during a compliance check.
The minimum fine for the first violation is $300 (plus a $250 surcharge). Repeat violations can result in fines of up to $2500 and the suspension or revocation of lottery and/or tobacco licenses.
New York State law also requires that the name and address of the Retail Tobacco Dealer in violation of Article 13-F be made public.
New York Public Places and Work Sites are Smoke-Free (Clean Indoor Air Act)
Effective July 24, 2003, public places and work sites across New York State must be smoke-free. All work sites—including bars and restaurants—are now included to ensure that all New Yorkers work in a safer environment. The original state law, passed in 1989, provided similar protections but in fewer work sites.
New York becomes the fifth state in the U.S. to provide such comprehensive public health protection from secondhand smoke—a substance with over 7,000 chemical compounds—including 69 known to cause cancer. Secondhand smoke is responsible for the deaths of approximately 49,000 non-smokers each year in the United States.
The law applies to virtually all places of business. Business owners are required to inform employees and patrons that smoking is prohibited indoors—including private offices and smoking rooms—and to post No Smoking signs in conspicuous places within their establishment.
The Monroe County Health Department regularly inspects facilities that are under permit from us and responds to complaints that we receive from the public to determine compliance with various provisions of the law.
Questions about how the statewide smoking law applies to your business can be answered by calling (585) 753-5541.
Informational Links