October 21st, 2022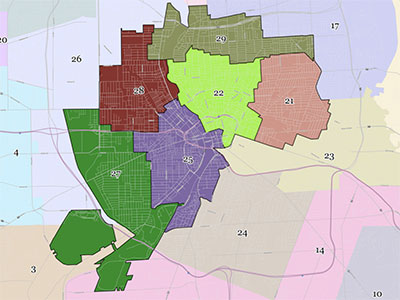 In letter to County Legislators, Bello urges them to reject current map proposal under consideration and renew negotiations in order to achieve a fair and equitable redistricting plan
Monroe County Executive Adam Bello today presented a legally sound, illustrative plan demonstrating what a redistricting map that provides for six minority-opportunity districts could look like, urged the Legislature to reject the proposed maps plan, cancel tonight's scheduled Special Meeting and renew negotiations in order to achieve a fair and equitable redistricting plan.
"When I shared the results of our expert analysis two weeks ago, I committed to creating an illustrative map using a process that is data driven and legally compliant," said County Executive Bello. "This illustrative plan demonstrates what a map with a sixth minority-opportunity district could look like and can serve as a starting point for discussions and negotiations to arrive at a map that truly empowers minority voters and serves our community's interests."
Two weeks ago, County Executive Bello presented unbiased, data-driven analysis conducted by voting rights experts Dr. Lisa Handley and attorney Jeffrey Wice. Their analysis showed that five existing districts in the current County Legislature map already enable Black voters to elect candidates of their choice. Unconstitutionally packing those districts with additional Black voters in this redistricting process will dilute minority voting strength by taking a sixth existing district that more often than not already enables Black voters to elect candidates of their choice – LD 21 – and gutting it of Black voters to create a safe, majority white district, rather than seeking to strengthen LD 21 as a minority-opportunity district.
As reported by the Democrat and Chronicle on Thursday, the Manager of the Redistricting Project at the NAACP Legal Defense & Educational Fund, Stuart Naifeh, explained that by creating five majority Black districts at the expense of a sixth minority-opportunity district, the plan now before the Legislature "potentially reduces representation for communities of color." Mr. Naifeh further noted that the "Supreme Court has said you can't use a racial target trying to create a majority Black district if the voting patterns say you don't need to."
Additionally, in an open letter to Legislature President Sabrina LaMar, Susan Lerner, the Executive Director of Common Cause New York, on Thursday further emphasized exactly these concerns. Ms. Lerner wrote that the "proposed map appears to pack Black voters into 5 districts in order to eliminate a sixth district which provides minority voters with an opportunity to elect a representative." She noted that Common Cause was "alarmed at the way in which partisan interests have dominated" the Legislature's redistricting process and "urge[d] the County Legislature to reject the proposed map."