Fire Bureau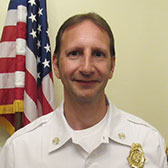 Steve Schalabba
Fire Coordinator
Public Safety Training Facility
1190 Scottsville Road
Suite 203
Rochester, NY 14624
Phone: 585 753-3750
Fax: 585 753-3867
sschalabba@monroecounty.gov
24/7 Coordination of Emergency Fire Services
The Monroe County Fire Bureau provides firefighter training, fire investigation services, juvenile fire setter intervention programs, hazardous material and technical rescue responses and field coordination to the 39 county, town and village fire departments. In addition, the Fire Bureau is the conduit to the New York State Office of Fire Prevention and Control for fire reporting, firefighter training databases and all field respones and training initiatives offered by New York State.
The Monroe County Fire Coordinator administers The Monroe County Mutual Aid Fire Response Plan. This Plan, in existence since 1941, is the basis for mutual aid fire resources and responses for both in and out of Monroe County for major fires, disasters and hazardous material-related incidents. Monroe's 13 deputy fire coordinators assist the County Fire Coordinator with field responses and with the administration of the Mutual Aid Fire Plan.
The Fire Bureau leads a specialized unit of firefighters from all Monroe County fire agencies. These firefighters comprise the Monroe County Hazardous Materials Response Team. The Hazmat Team has been in existence since 1984 and continues to respond to hazardous material incidents both in and out of Monroe County. The Hazmat Team is led by the Assistant Fire Coordinator and a deputy hazmat coordinator.
A County-wide Special Operations Unit is in the development state and will focus on a standardized response for technical rescue incidents including water, rope, trench, confined space and structural collapse rescue work. Training and unit development is currently underway.
Firefighter Training
Firefighter training is a primary Fire Bureau function. Our goal is to provide quality training that fulfills the needs of all County firefighters. The Fire Bureau offers County and State level training courses and programs, specialized training programs (i.e. technical rescue, hazmat, etc), in-service training programs and a variety of tactical training programs. Most training programs are offered at the Public Safety Training Facility on Scottsville Road where a variety of live training props are located. Tactical training includes props for fire suppression, ventilation, search and rescue, high rise firefighting and technical rescue training programs.
Juvenile Firesetter Intervention Program (JFIP)
The Monroe County Fire Bureau's Juvenile Firesetter Intervention Program (JFIP) serves the youth and families of Monroe County. The JFIP specifically targets children who've engaged with some form of fire play or firesetting. Each year, JFIP Officers see an average of 100 children in Monroe County (excluding the City of Rochester). Nearly 35% of the children that JFIP sees are involved with or referred on for mental health services. Each intervention and education program done with a child is done in the child's home with a parent present.
Many juvenile referrals are done through Monroe County Fire Departments, fire marshals, local law enforcement or referrals from parents. If you have questions regarding the JFIP program or would like to make a referral please contact the Fire Bureau at 585-753-3750.
Fire Investigation
The Fire Bureau's Fire Investigation Unit is a partnership between the Fire Bureau and Monroe County Sheriffs Department. The Unit, comprosed of Fire Bureau and Sheriff's personnel respond to approximately 300 calls for service annually and operate in accordance with NFPA standards and guidelines for fire and explosion investigations. The Fire Investigation Unit works closely with local law enforcement and JFIP staff. For questions about the Fire Investigation Unit contact the Fire Bureau at 585-753-3750.
Mutual Aid Field Responses
The Fire Bureau routinely responds to working fires, hazardous material incidents, technical rescues or for incidents where the County and/or State Mutual Aid Plans are activated. Deputy Fire, HAZMAT and Special Operations Coordinators respond into the field over 300 times annually, providing assistance to incident commanders or other counties as required. Mutual Aid coordination, personnel accountability, asset coordination and assistance to Monroe County's 5 fire battalions encompass these field responses or mutual aid requests.
Links

print this page   

email this page   

back to top
Accessibility and Standards · Disclaimer and Privacy Policy · Non-Discrimination Policy
Official Site of Monroe County, New York. Copyright © 2019 Monroe County. All Rights Reserved.
Comments or suggestions? Please Contact Us